Welcome to this exceptional Tomball home where the spirit of Texas meets Provence, France. From the moment you drive onto the property, you'll be transported to a place of serenity laced with whimsy.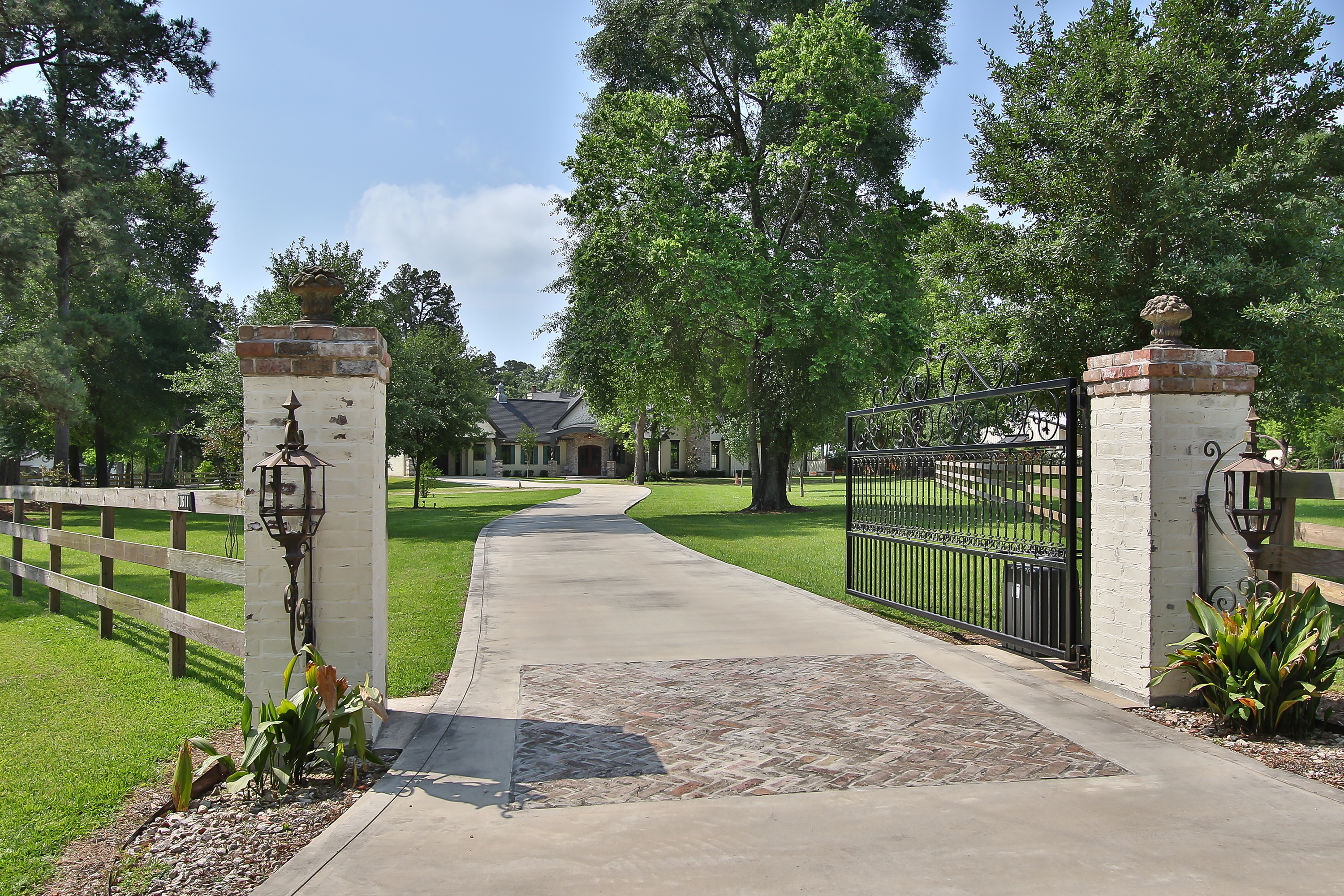 This Country French home tucked in the trees offers four bedrooms, two and a half baths, two and a half-car garage and porte-cochere. Exposed brick, stucco and stone come together to create a New Orleans flair to this gorgeous home replete with rustic charm blended with modern features.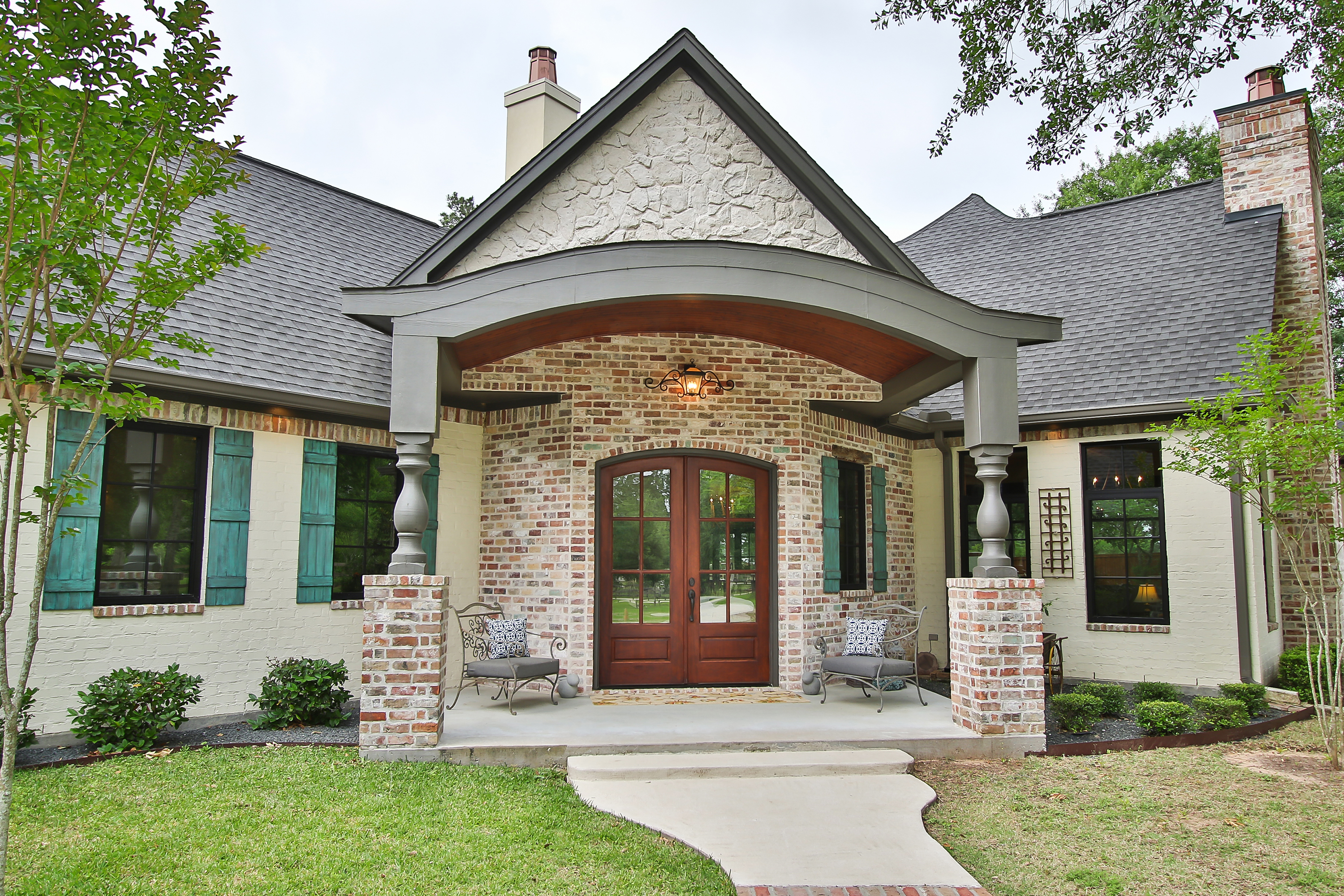 Simply approaching the entry is a treat for the senses. The eye-popping turquoise shutters are crafted from reclaimed wood. Follow the curved roof of the covered porch that gracefully gives way to carved columns standing on brick pillars. Outdoor speakers play a melodious welcome to guests coming to visit. Come inside… there are more treasures to explore.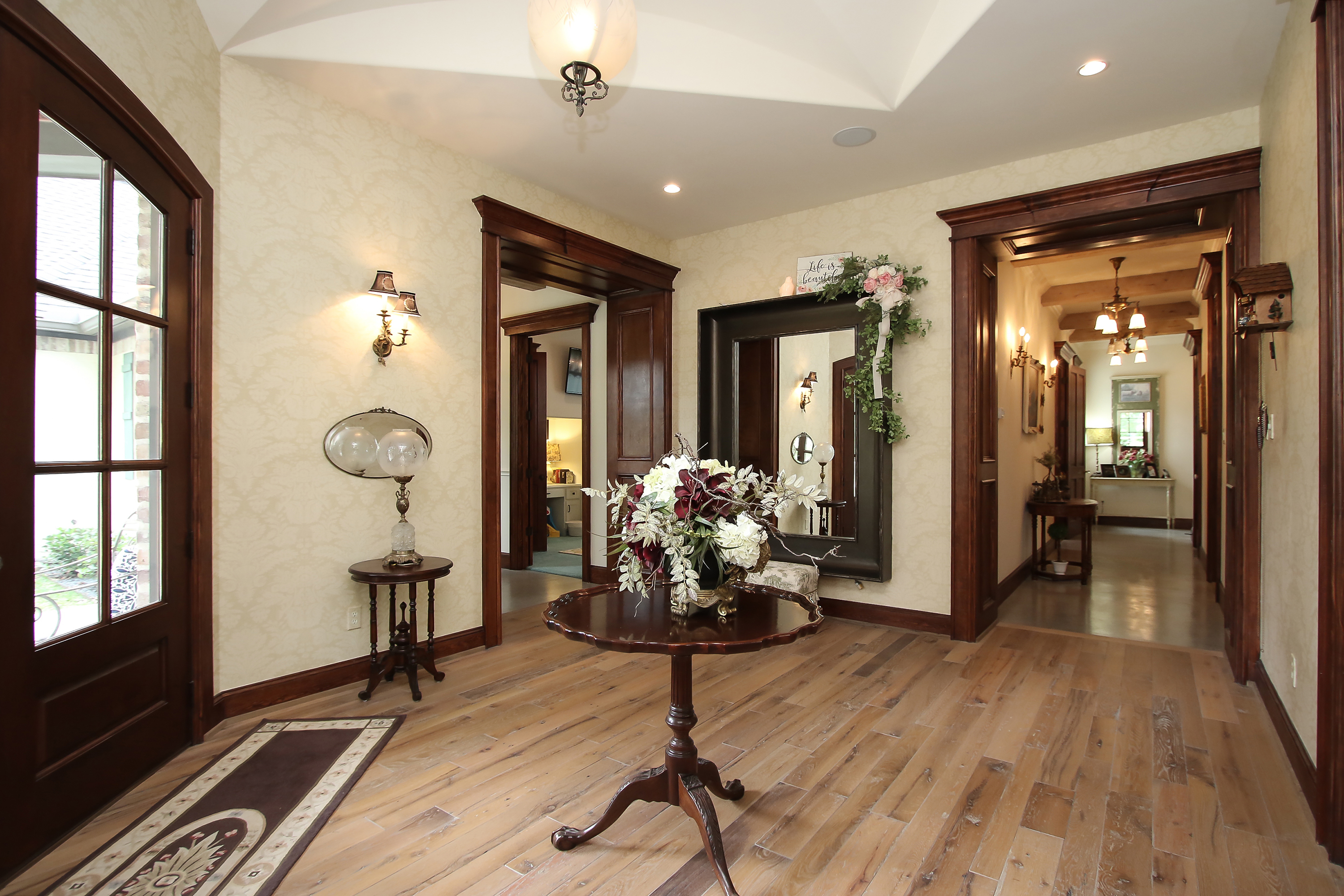 The arched double door leads to a spectacular Entry underscored by a wood floor made from reclaimed wood harvested in Louisiana. Three hallways branch off from the Entry, each topped with handcrafted wood bonnets and side trim. Antique lighting is found throughout the home lending to its Country French appeal. The Front Entry is graced by a groin-vaulted ceiling that adds feminine architectural interest the moment you walk through the door.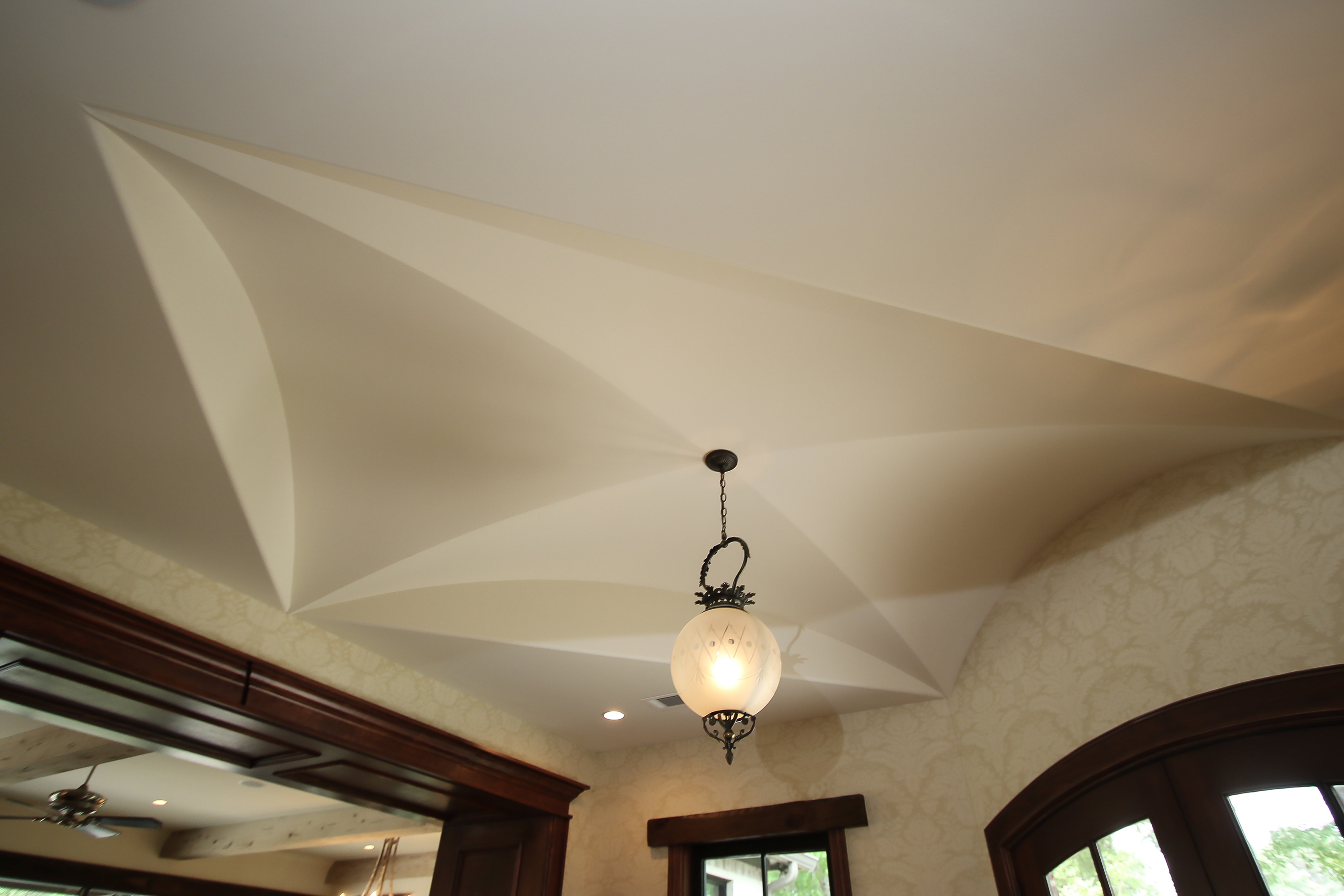 Just off the Entry is an expansive space that encompasses the Family Room, Dining Room, and Kitchen that overlooks the rear yard through a wall of windows incorporating a contemporary industrial design. While it may sound overwhelming to blend these spaces, the hardwood floors work in tandem with cedar covered beams to create an intimate feel. It's quite natural to be connected to the Kitchen from a spot on the sofa in front of the fireplace in the Family Room.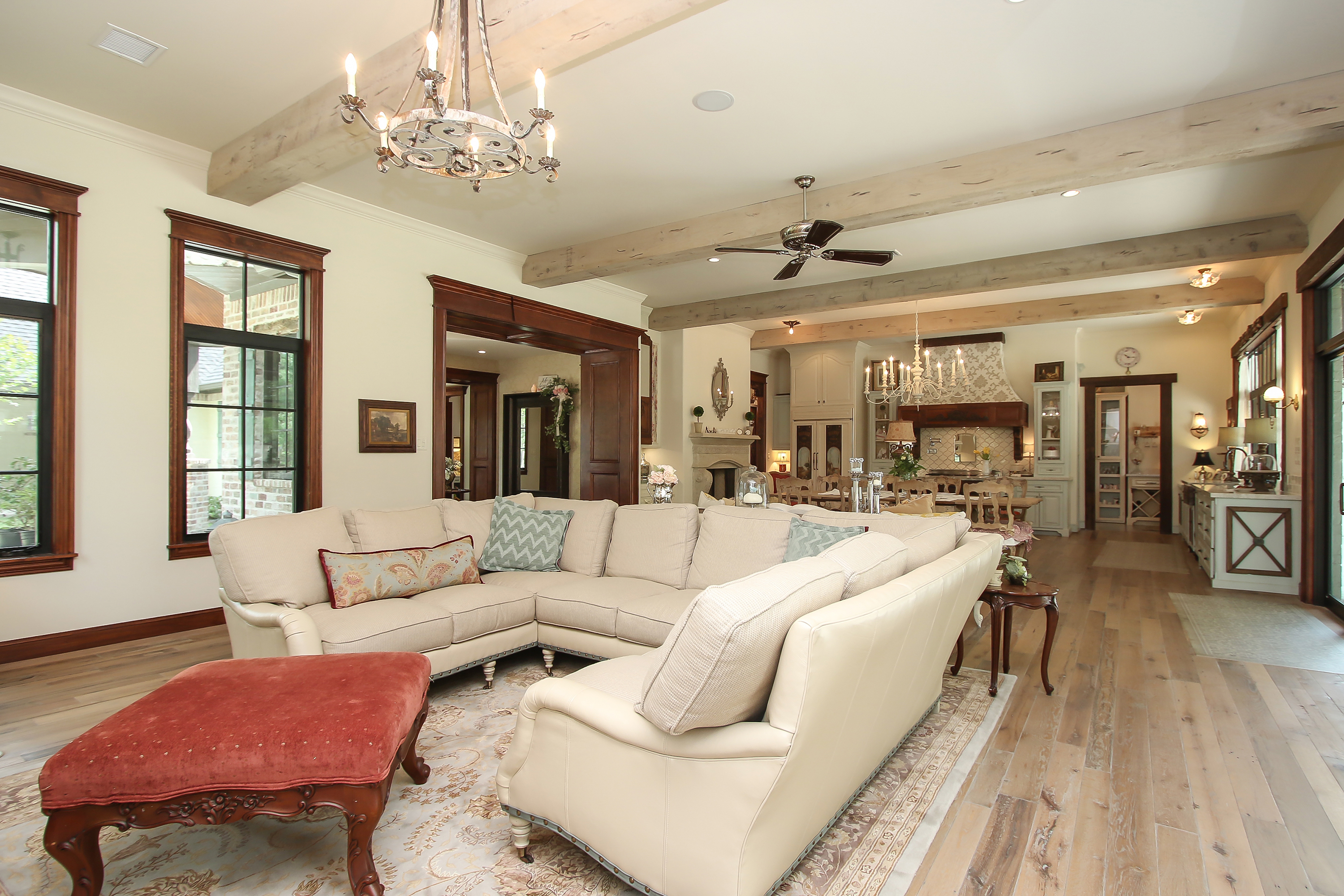 The home chef will delight in this Kitchen equipped with a signed Antonio Bertazzoni gas range, complete with six burners, a griddle, two convection ovens and a storage drawer below. Two pullout cabinets flank the oven and serve as spice and towel racks.
Reduce, reuse, recycle has a whole new meaning in this country maison. Above the range is a non-descript mirror, but look closer… it's an old medicine cabinet that holds spices. Many memories were made around what was the owner's dining table. They modified it, topped it with beautiful emerald granite and put it on wheels. It even has electricity for lighting or small appliances.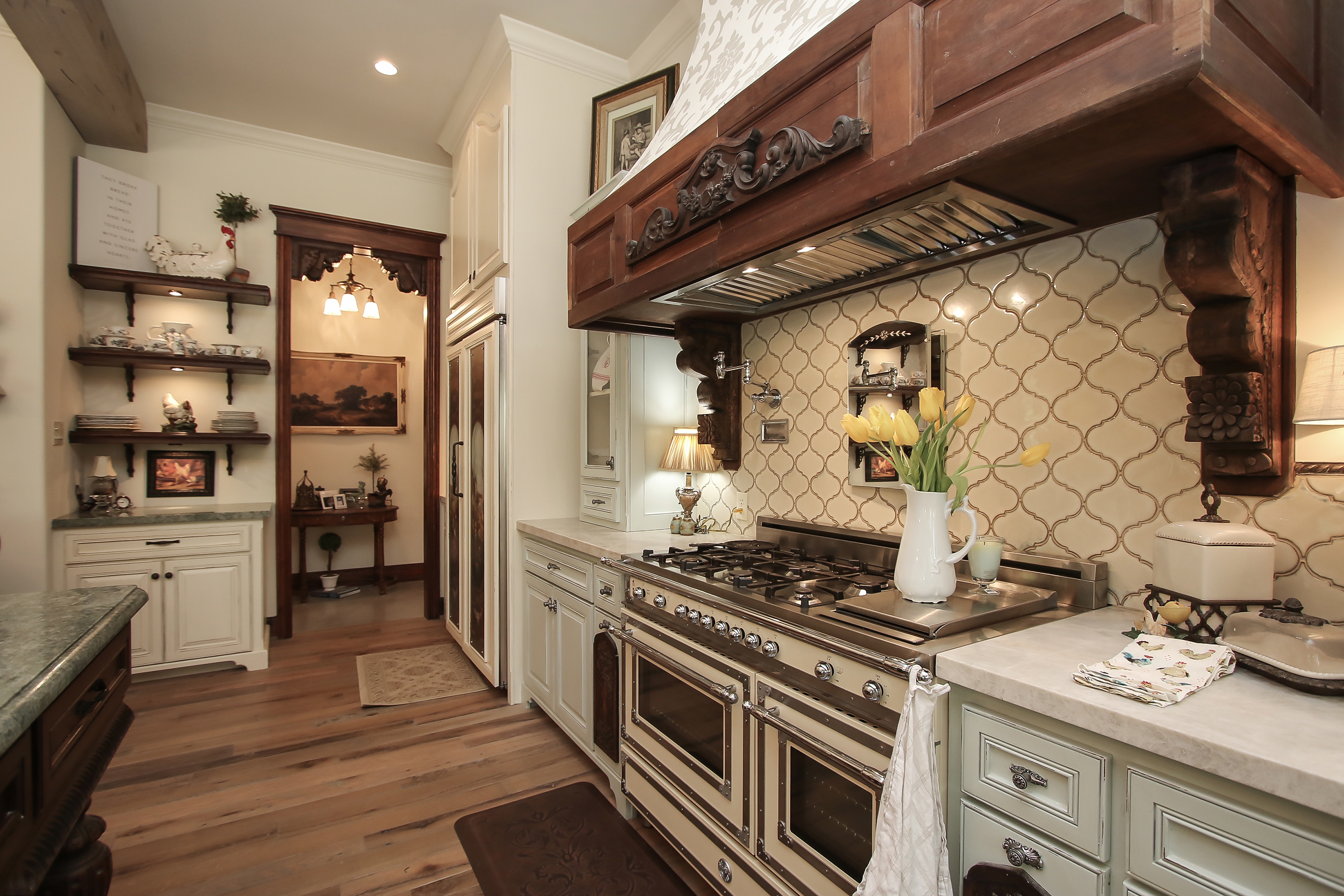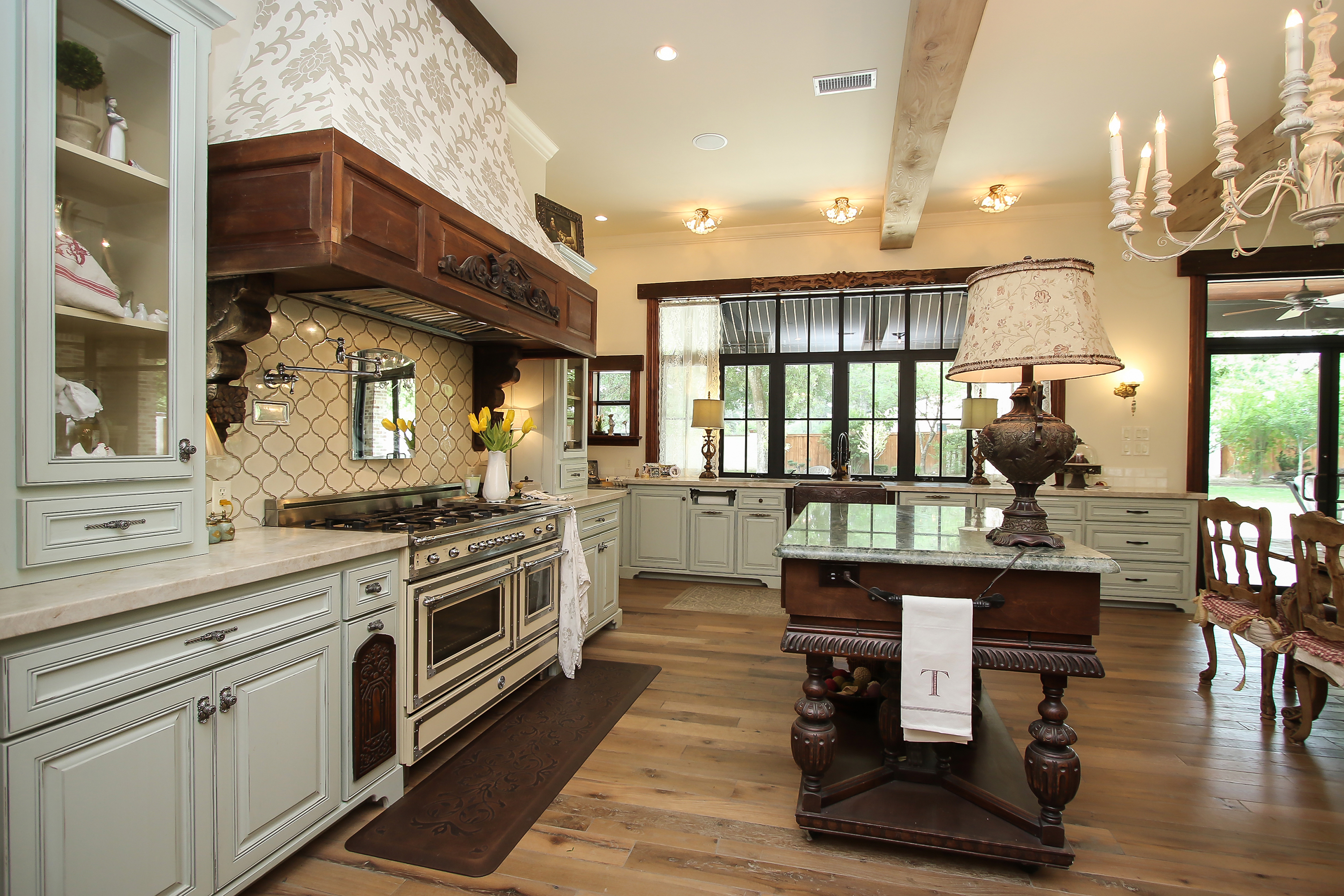 The cabinet face to the left of the fireplace is an old door recycled from an antique piece. Another door was salvaged and sits gracefully as the front panel of the range hood. Don't leave your seat for long – woodwork on the cabinet sink doors was taken from antique dining chairs.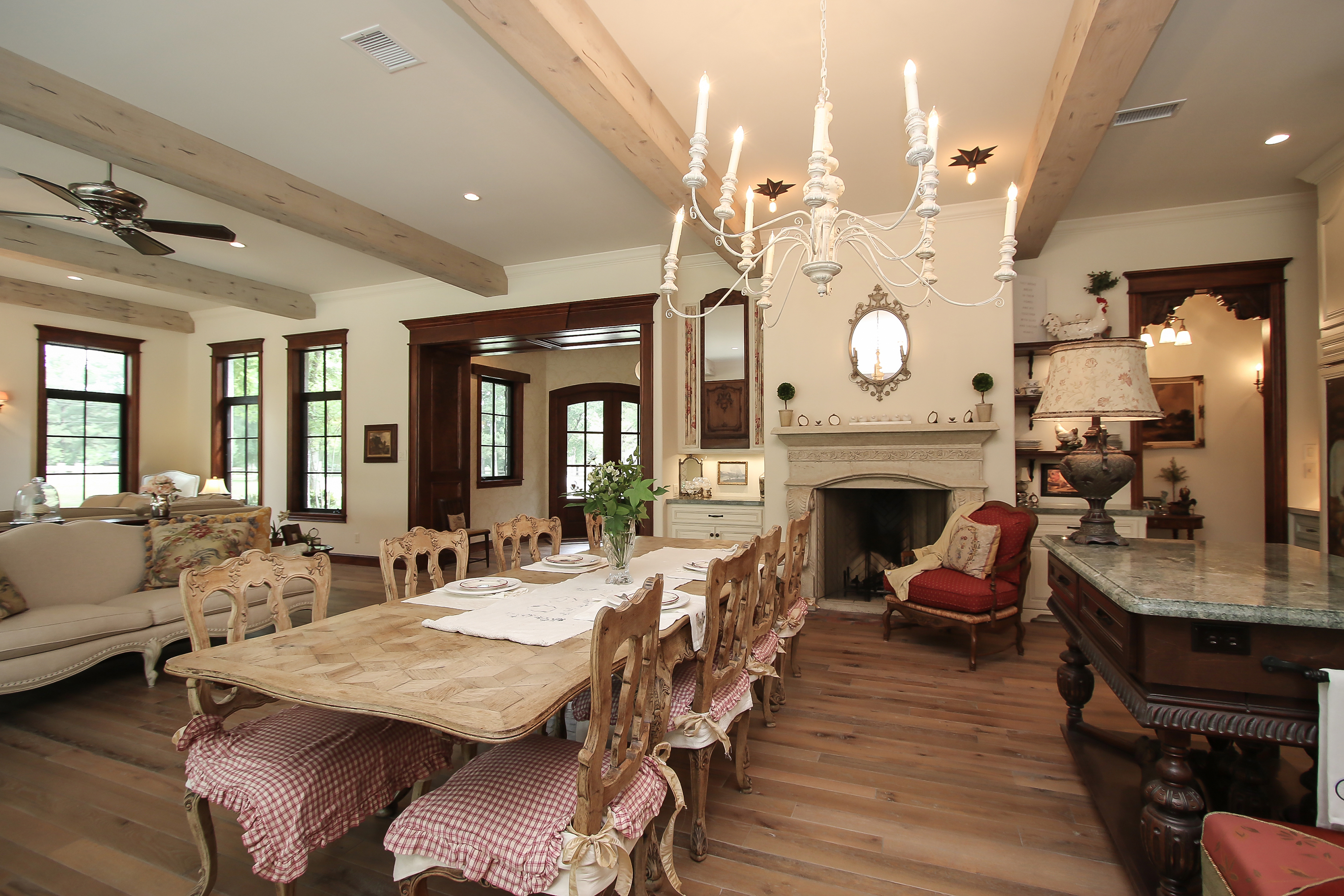 Cabinetry designed to look like furniture includes double trash receptacles, a dishwasher, deep pull-out drawers that will accommodate place settings, and a retractable chopping block with a cut out to sweep cuttings into the trash. The copper farmhouse sink overlooks the expansive windows looking onto the rear yard.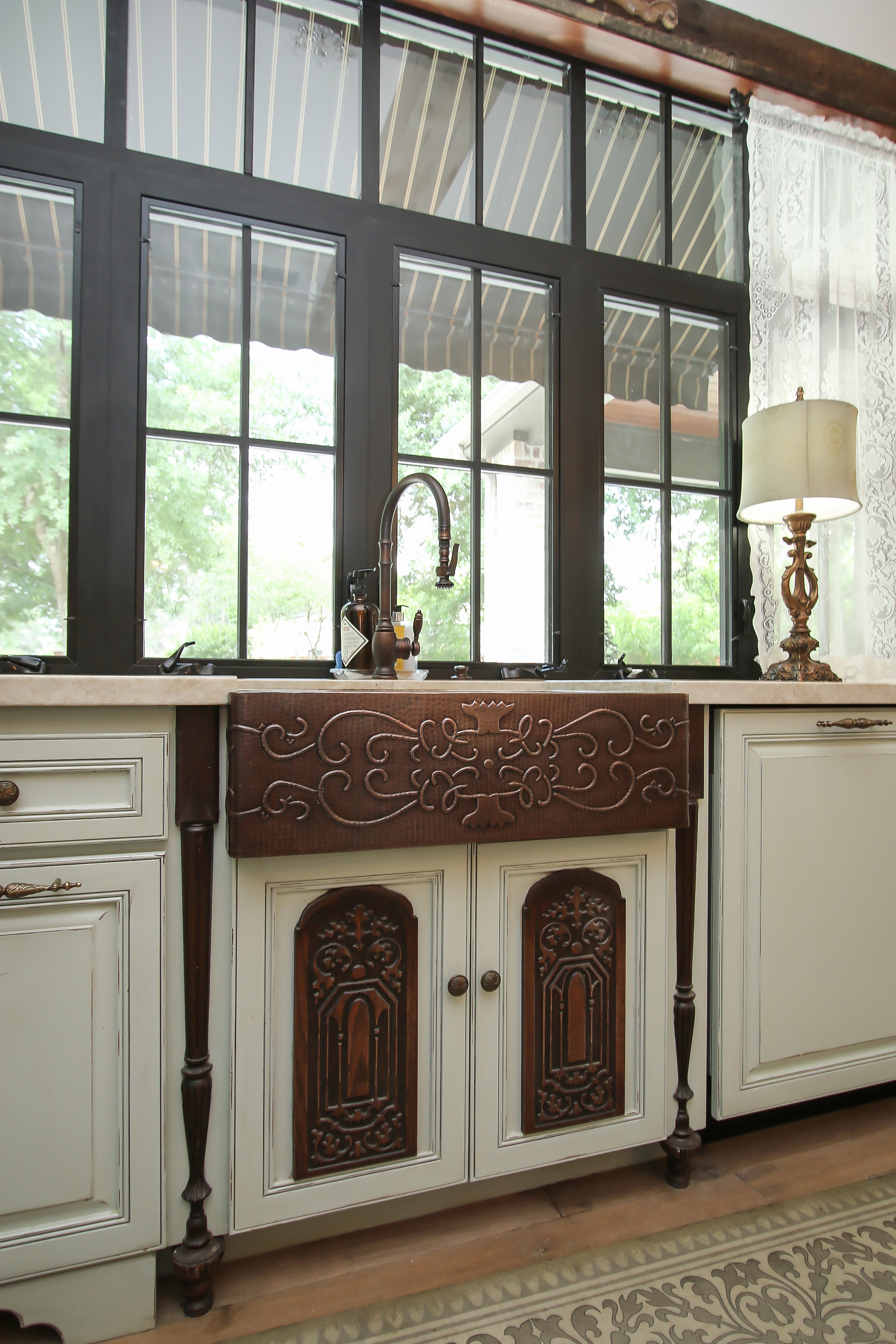 Tucked behind the Kitchen is a magnificent Butler's Pantry supplying ample cabinet storage, microwave, and icemaker. The granite countertops are illuminated by under cabinet lighting.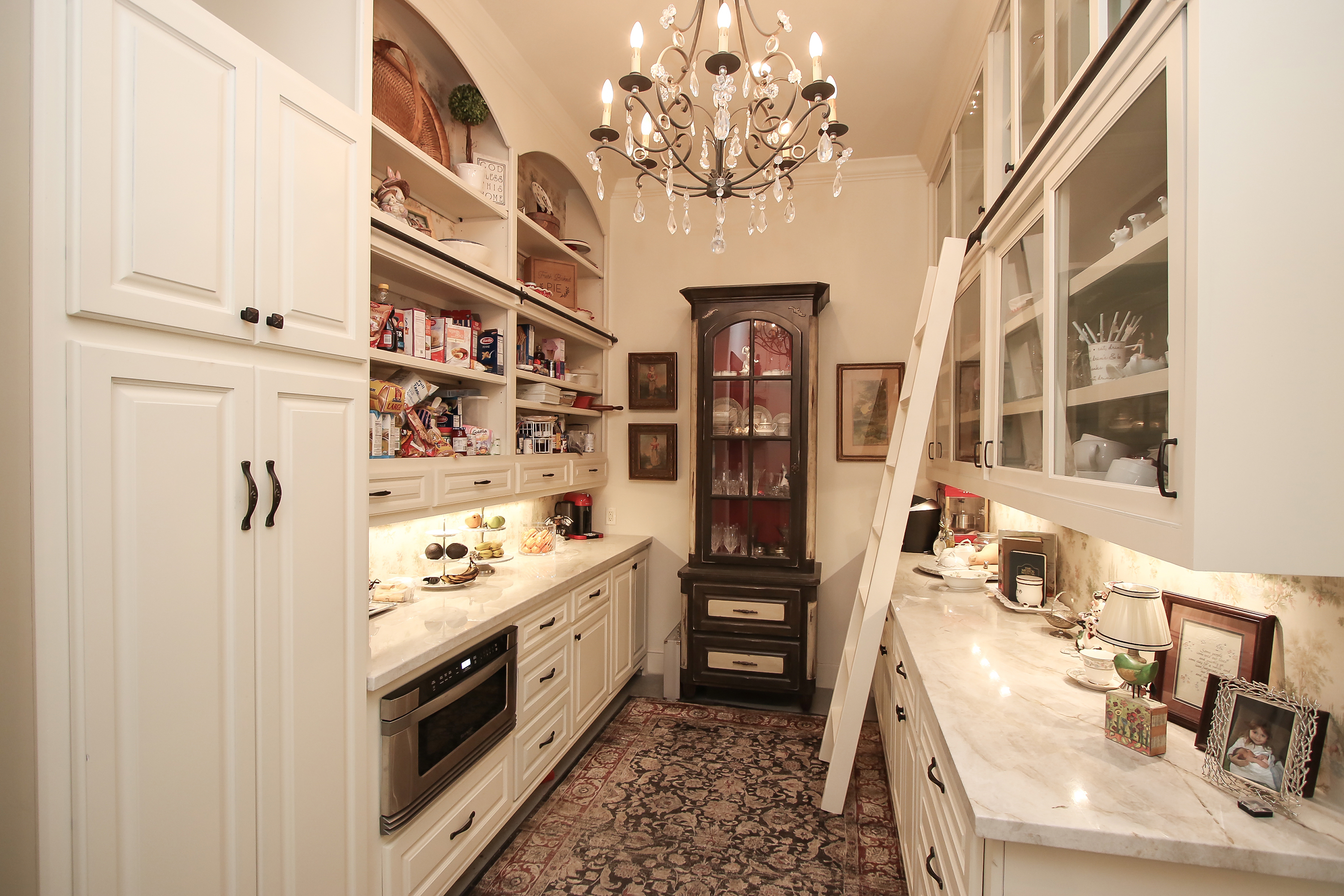 Floor-to-ceiling cabinetry has sliding ladder access and includes a space for cookie sheets and cooling racks among other storage solutions.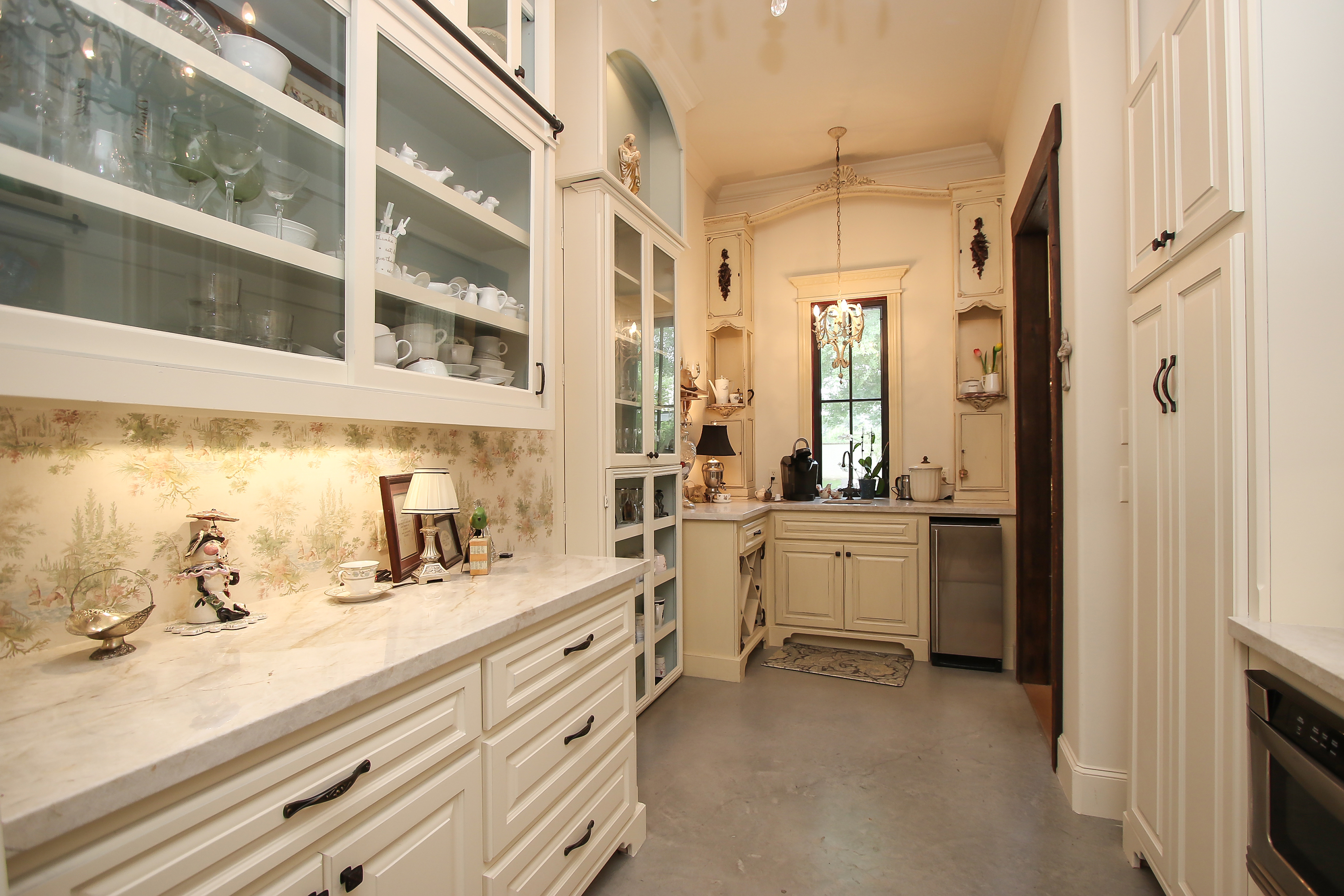 An antique bed frame surrounds a slender window and provides pockets of storage at the bar area. Although this home is filled with surprises at every turn, one of the best is the china cabinet storage that serves as a secret door to the Master Suite!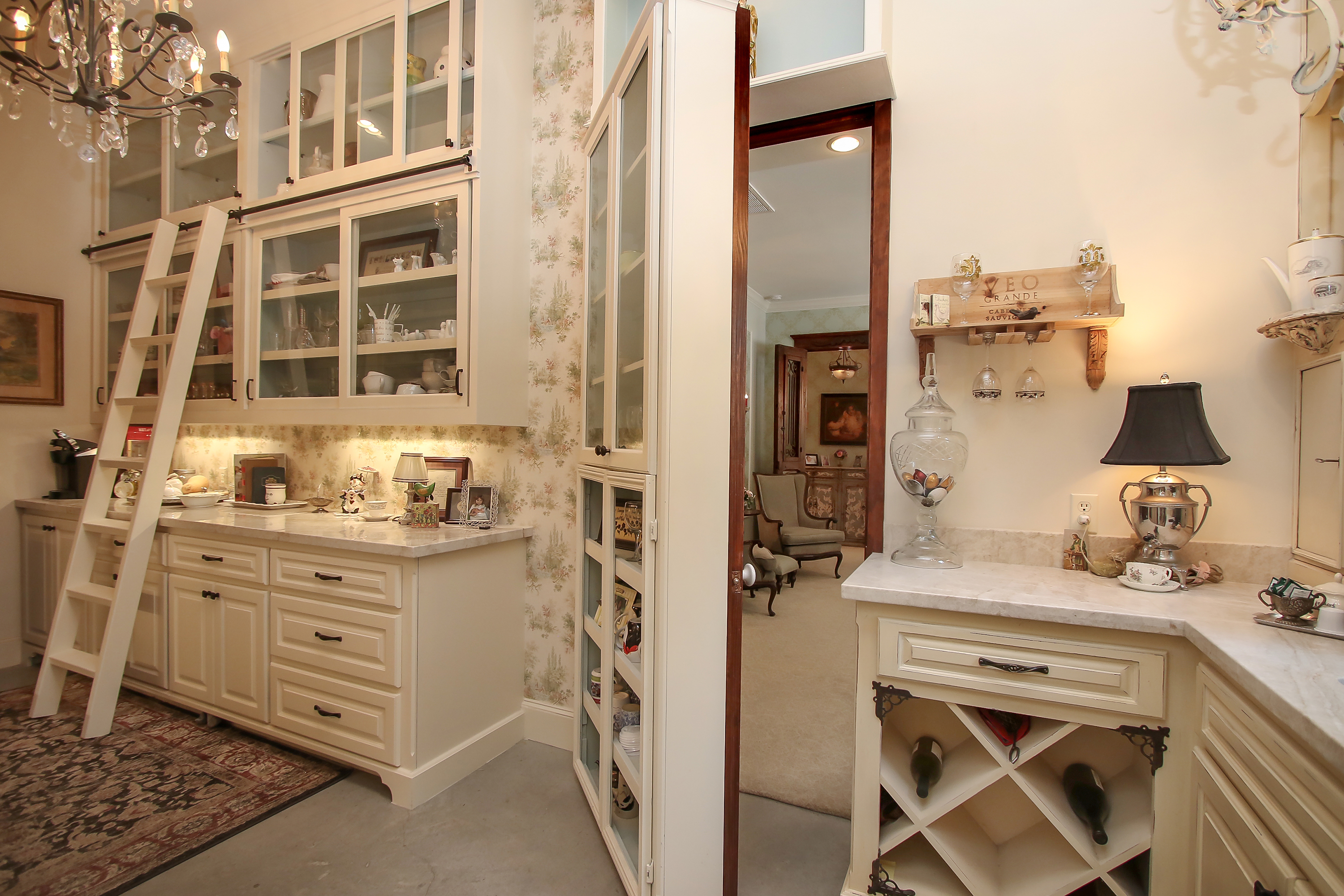 Rest will come easily in this tranquil Master Suite that includes craftsman style French Doors leading to the pool deck. Picture molding, antique lighting, and designer wallpaper adorn the Master walls creating a casually elegant feel to the space.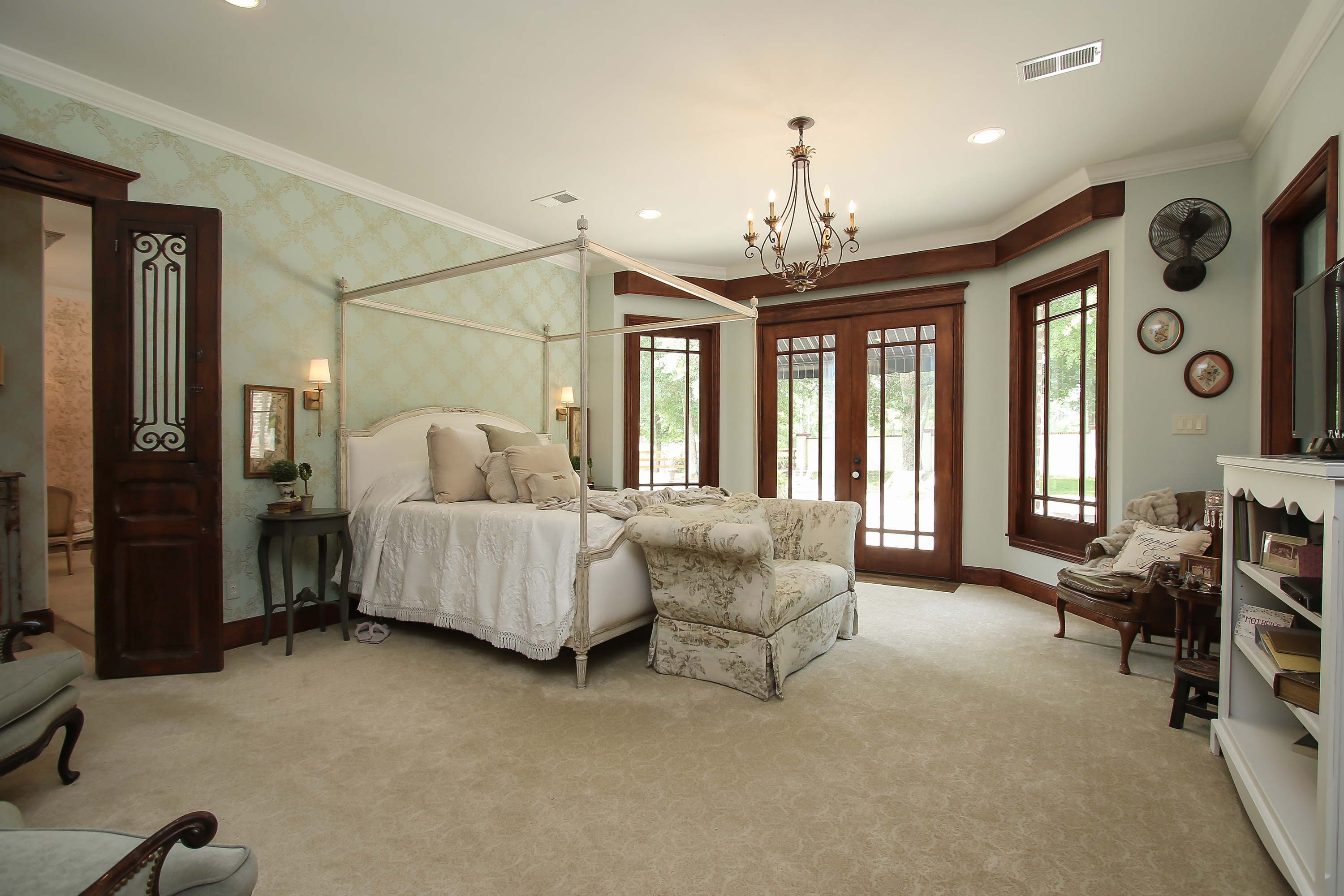 Antique doors imported from the Far East lead to the Master Closet on one side and the Master Bath on the other.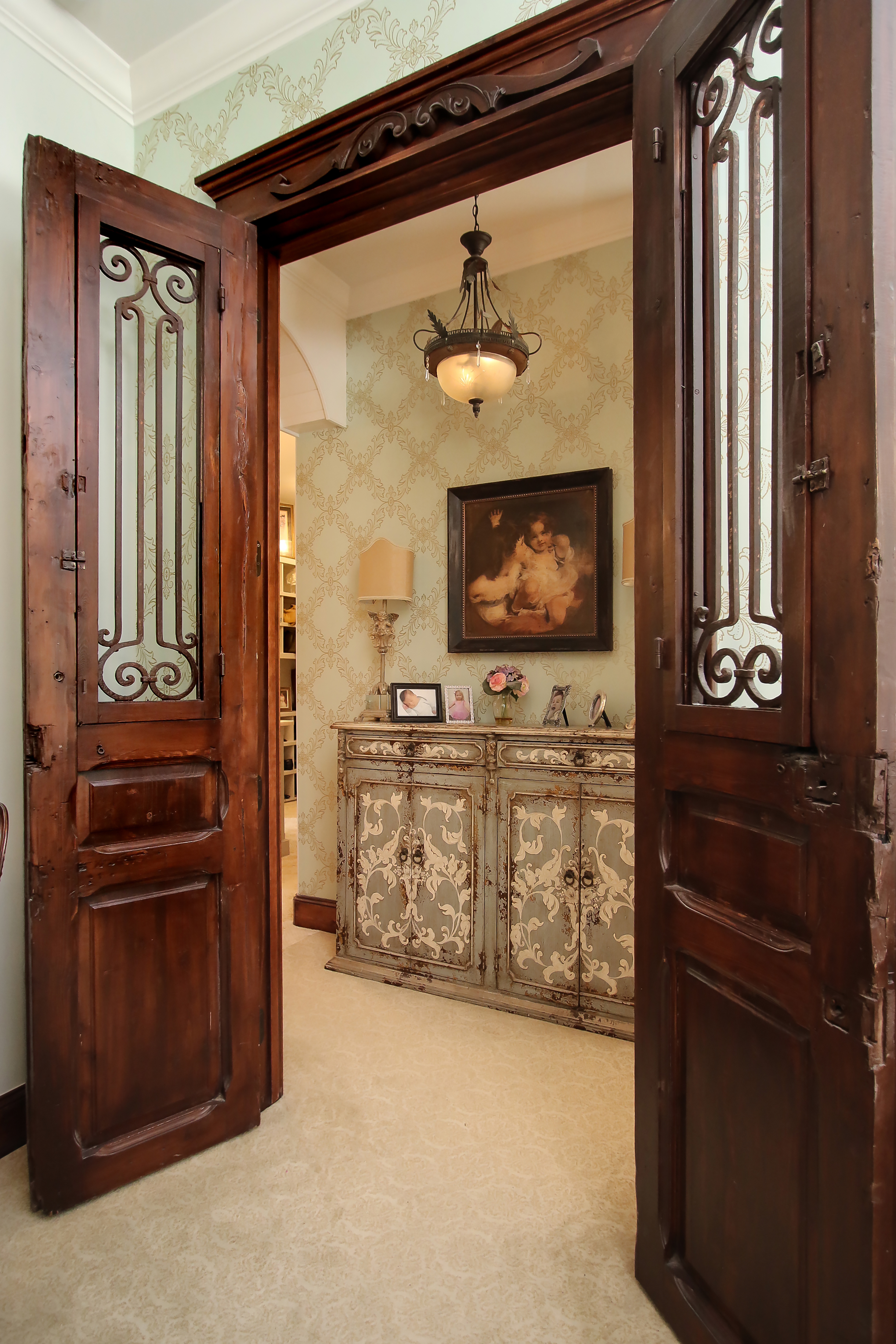 Traveling to the bath, one must stop for a moment to discern whether or not they're in a luxurious resort or a home Master Bathroom. Elegance drapes this space with an antique oval bath, remote controlled gas-start fireplace, double vanities and private water closet featuring a Toto toilet.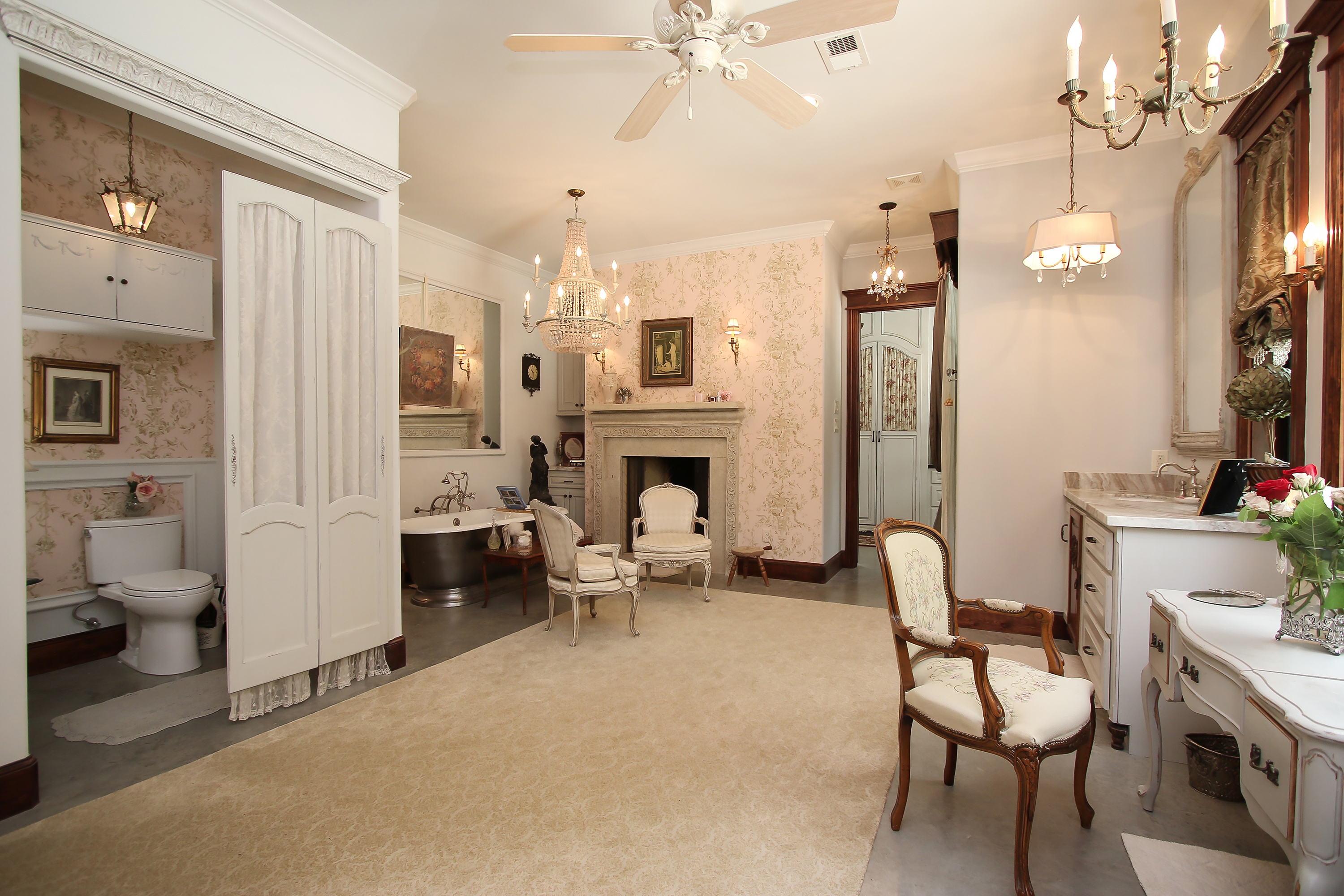 A separate shower features recessed shelving and charming tile. The middle vanity looks out through a diamond pattern leaded glass window. Smaller windows give way to the pasture in the distance dotted with black cattle in fields of deep green.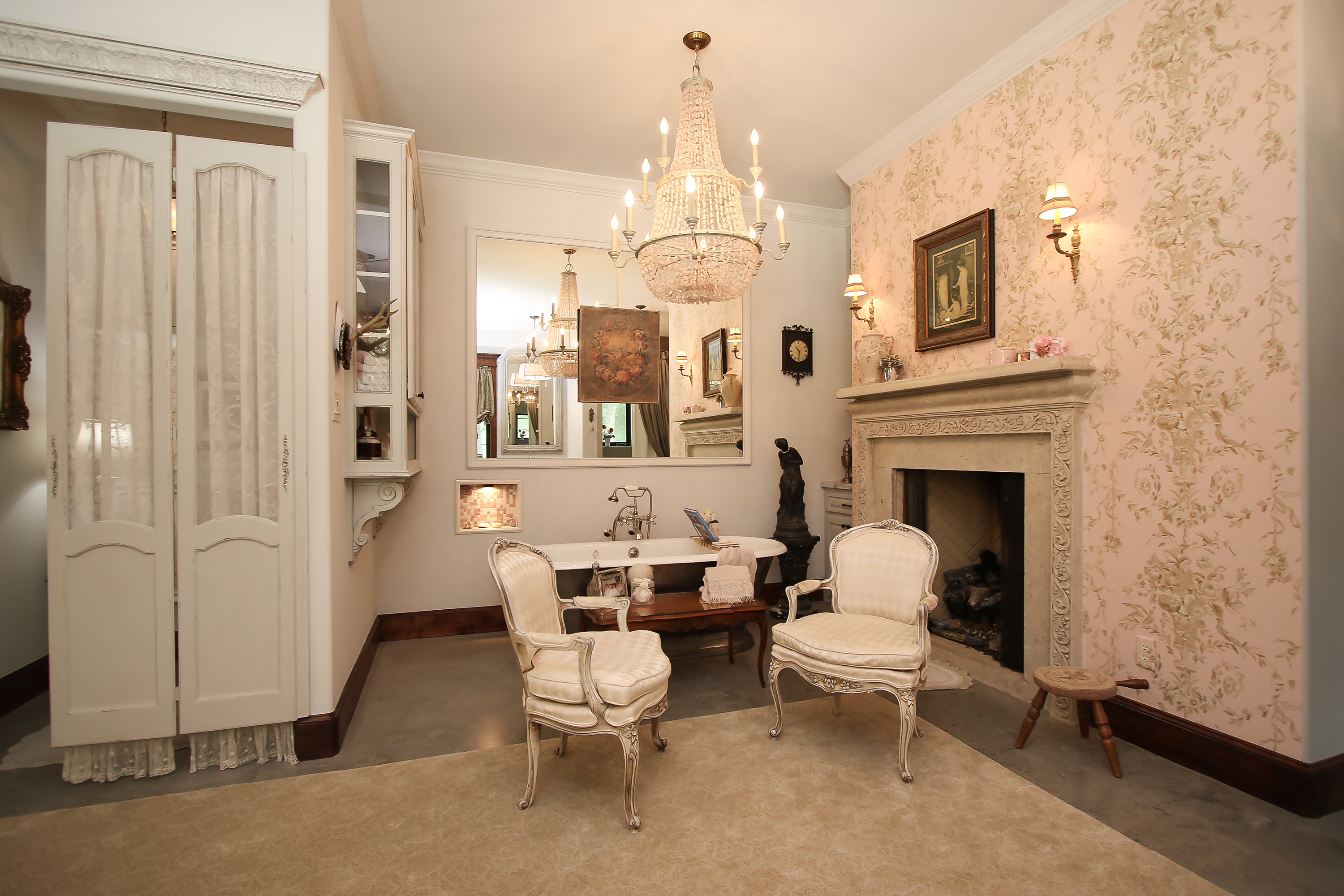 This way to the walk-in closet designed for two. Outfitted with a leathered granite countertop, the island offers additional storage and an electric outlet. Ladder access allows for top-shelf storage. Additional storage includes a secret door designed to hold jewelry.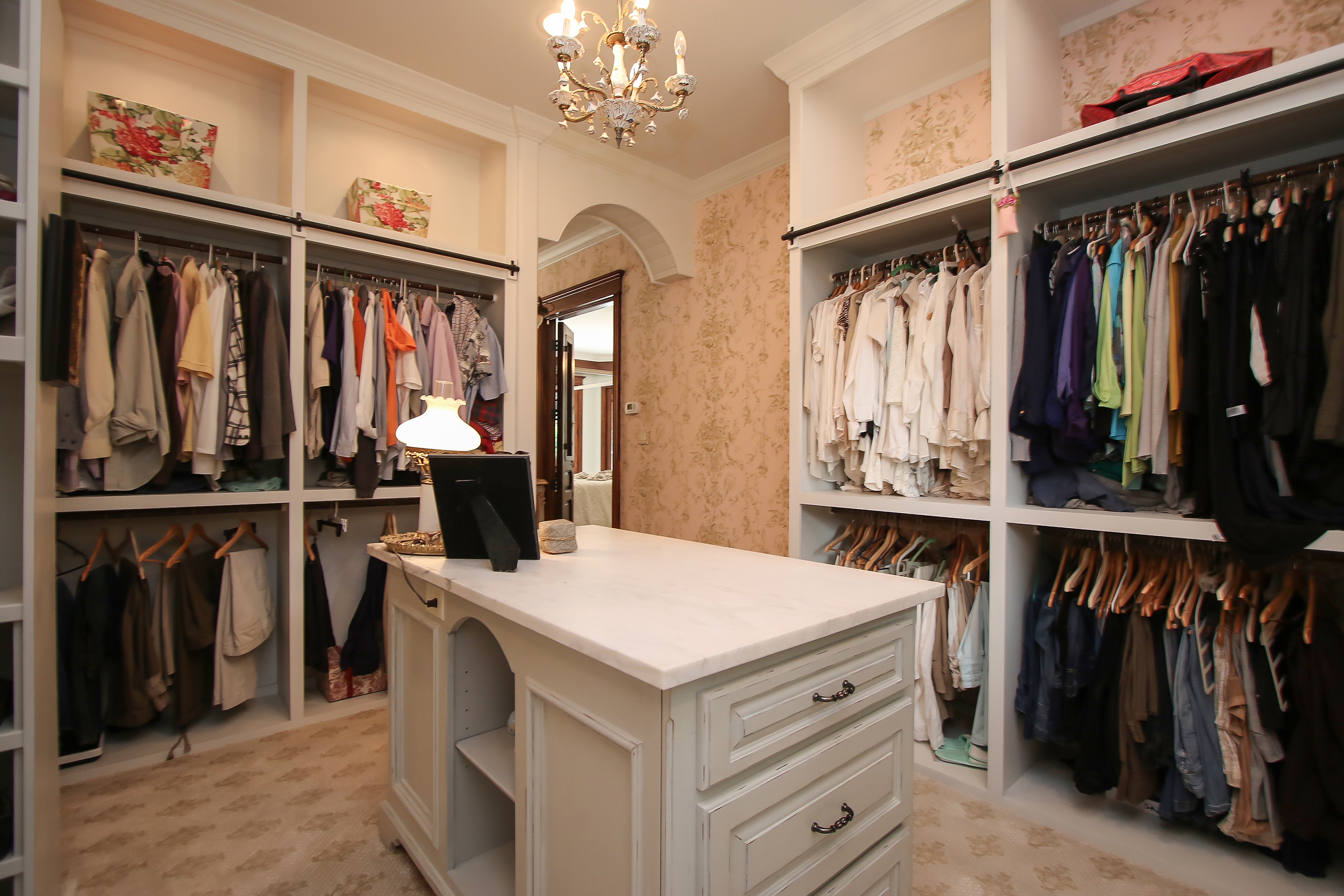 The Laundry Room transforms the chore of washing, drying, folding and hanging. Dressed in classic black and white toile wallpaper, you'll find you want to be in this space simply to be in this space. Storage abounds with a linen closet, granite counter tops, and a sink. Enjoy access to the pool for easy changing into dry clothes.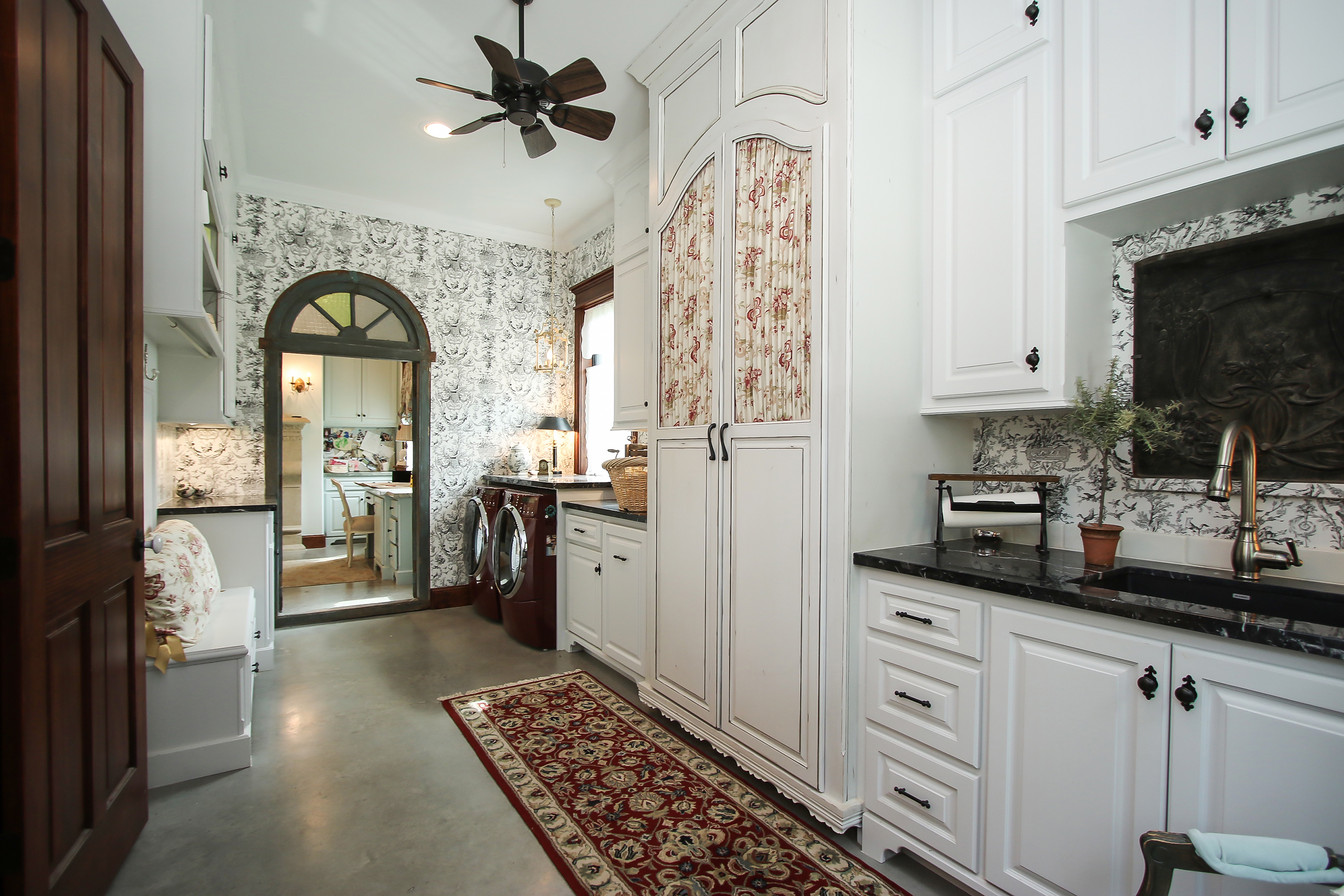 Just past the Laundry Room leads sits a Craft Room through an antique doorframe with an arched window that features original glass panes. A fireplace is the focal point of this craft room where creativity reigns. Store plenty of art supplies, wrapping paper, crafting and sewing supplies in the beautifully painted cabinets. Lower cabinets are topped with granite and allow for easy cleanup.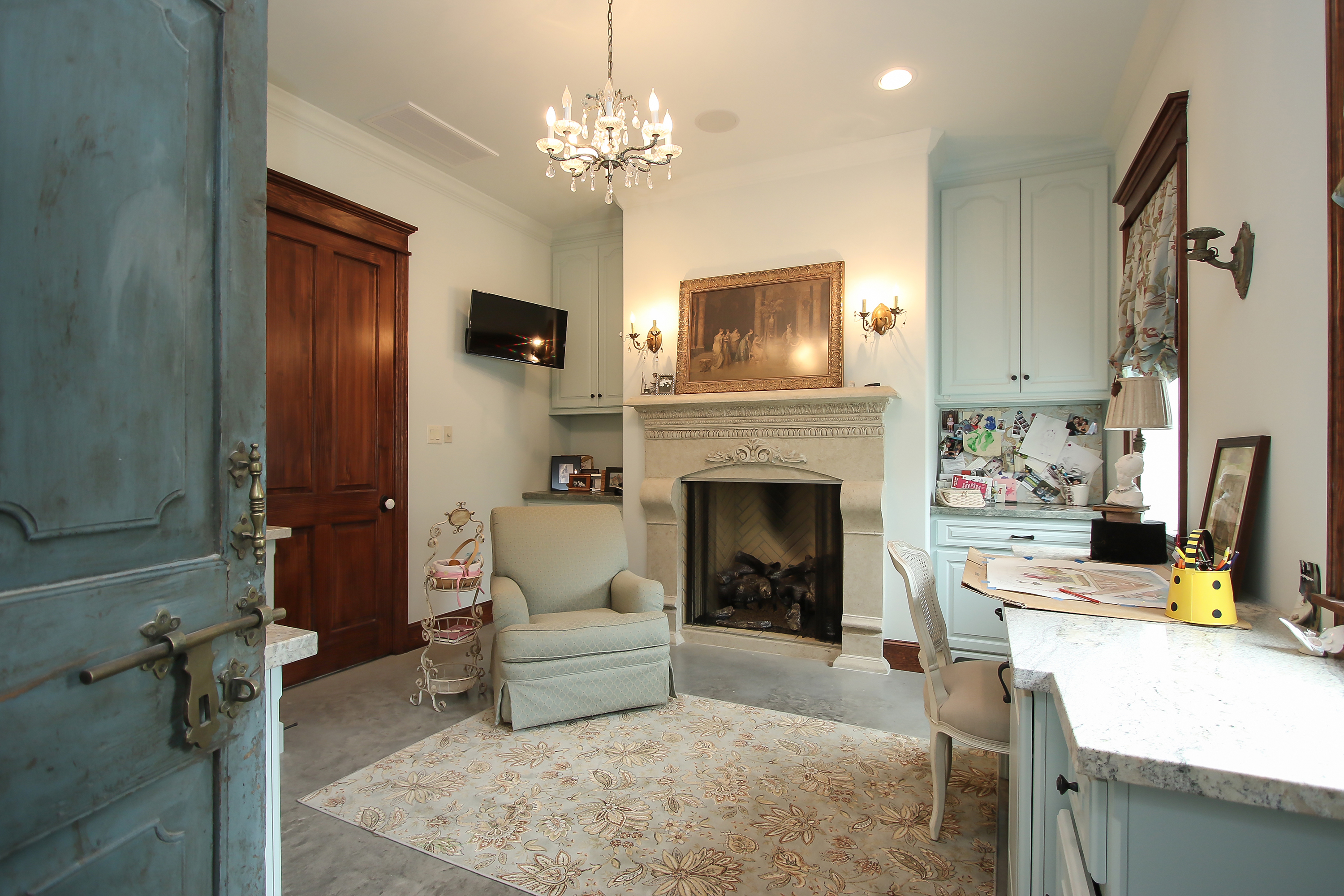 A sliding barn door reveals what can be an additional bedroom or home office. A built-in bookcase provides space for a television, storage, and shelves to display your favorite pieces. This hallway links the back of the home to the bedrooms in the front.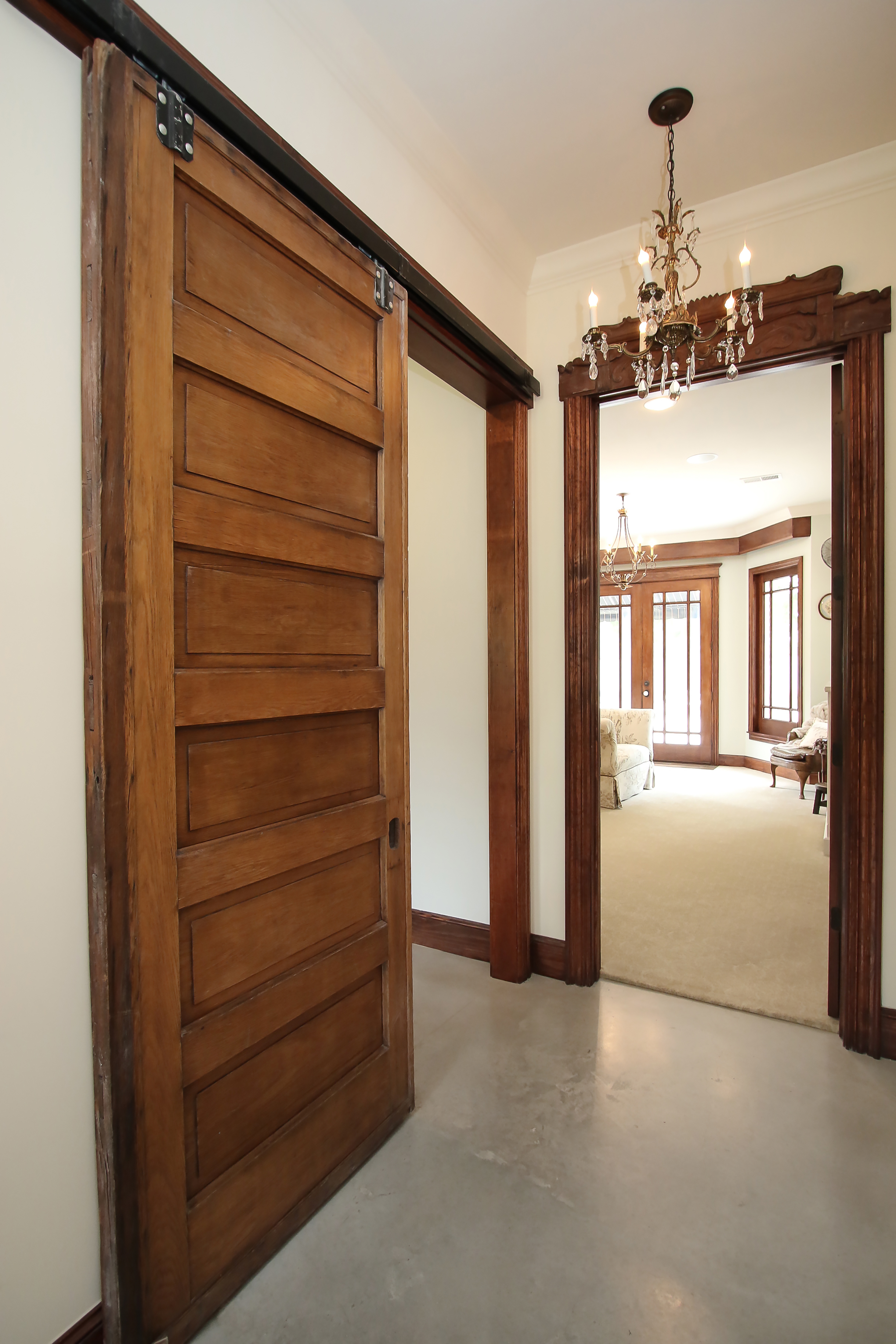 Cedar covered beams and antique lamps light the way. Off to the side is a mechanical closet that controls the sound system and provides storage as well.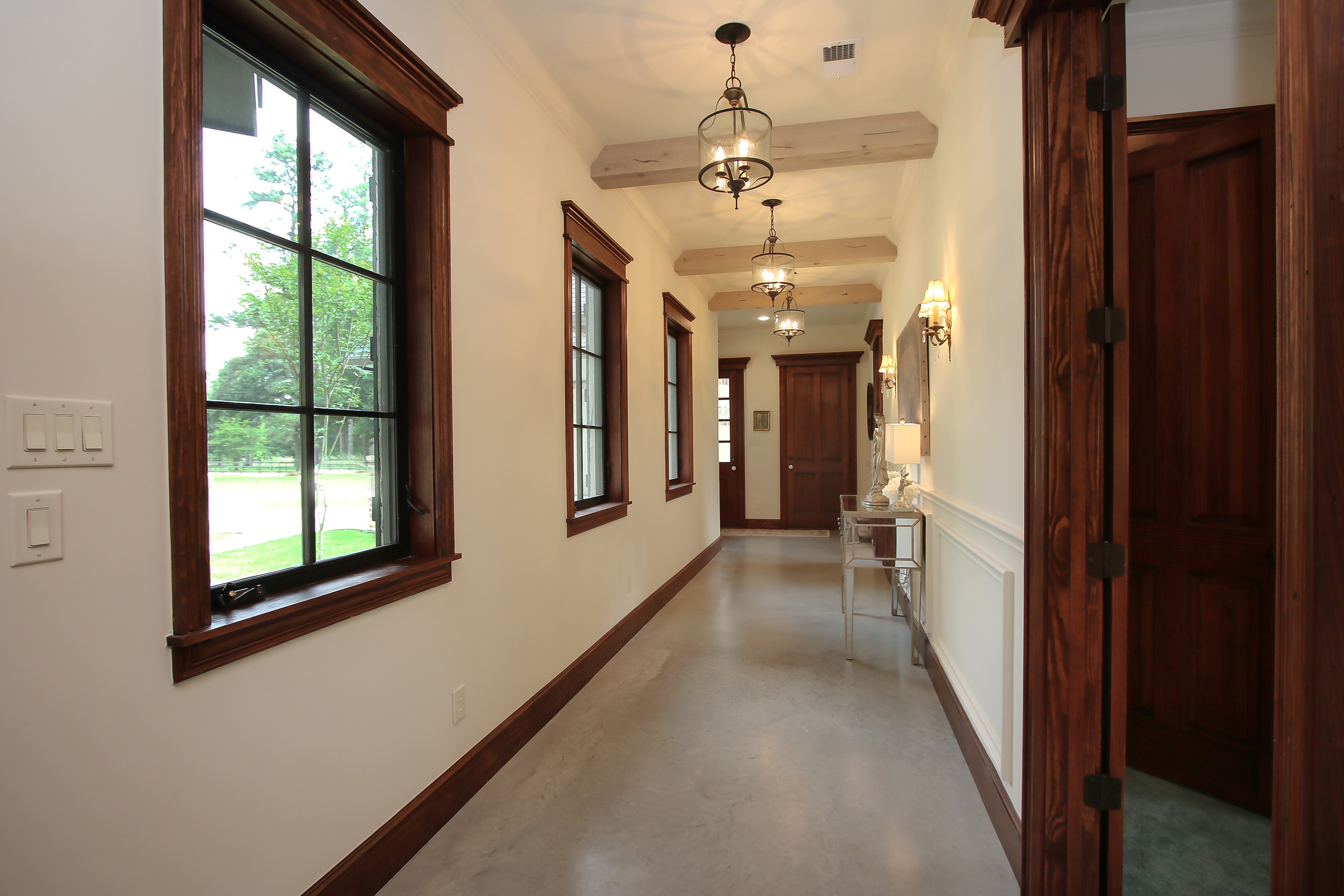 The Powder Room offers an antique vanity topped with granite featuring a vessel sink. More old world lighting and charming wallpaper keep you wrapped up in the Country French appeal.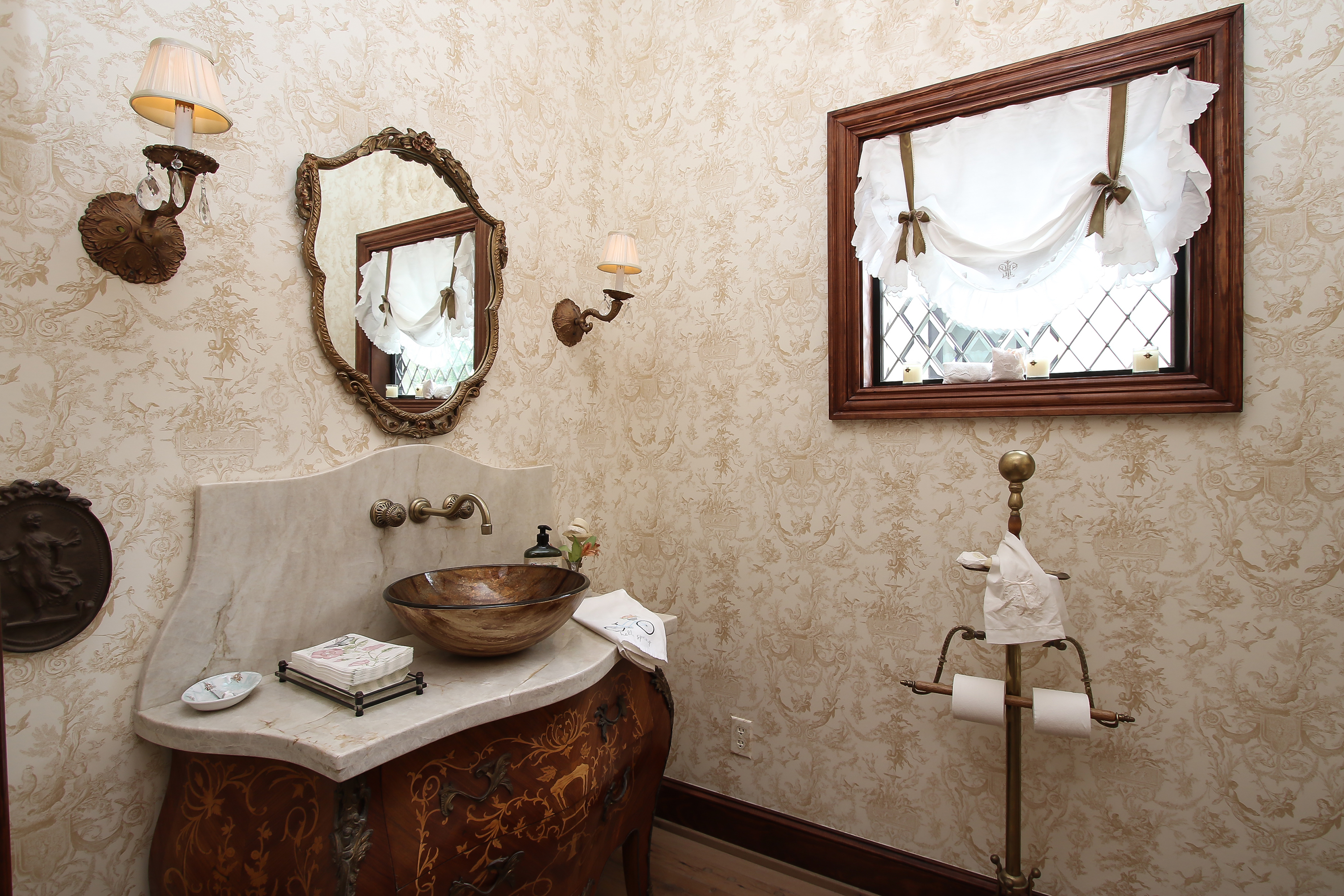 The hallway that runs along the front of the home leads to the secondary bedrooms and garage. Dotted with the cedar covered beans, rustic lighting, and paneled walls the front hallway leads to the children's room. Four bunk beds with built-in steps, individual lighting and guardrails keep little ones cozy and safe all night long. Plush carpeting, whimsical window dressing, and room to play make this a favorite space!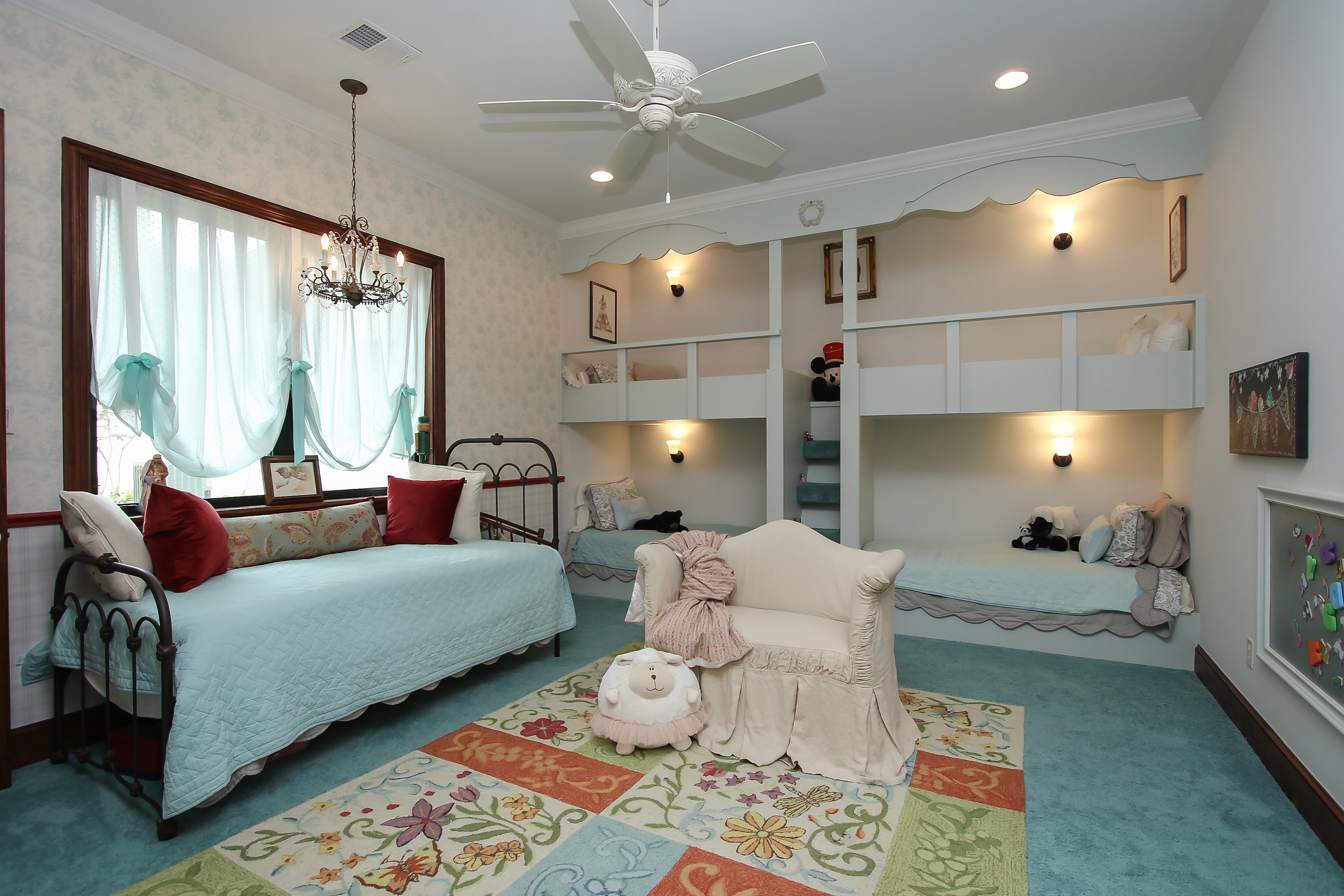 The adjoining bathroom features a potty for littles, a raised granite topped bathtub with handheld showerhead, recessed shelving, and a standard size toilet. Granite topped double bowl vanities accommodate more than one! There's plenty of storage in the under sink cabinets. Tucked under those are steps that pull out to help the littles reach the sink.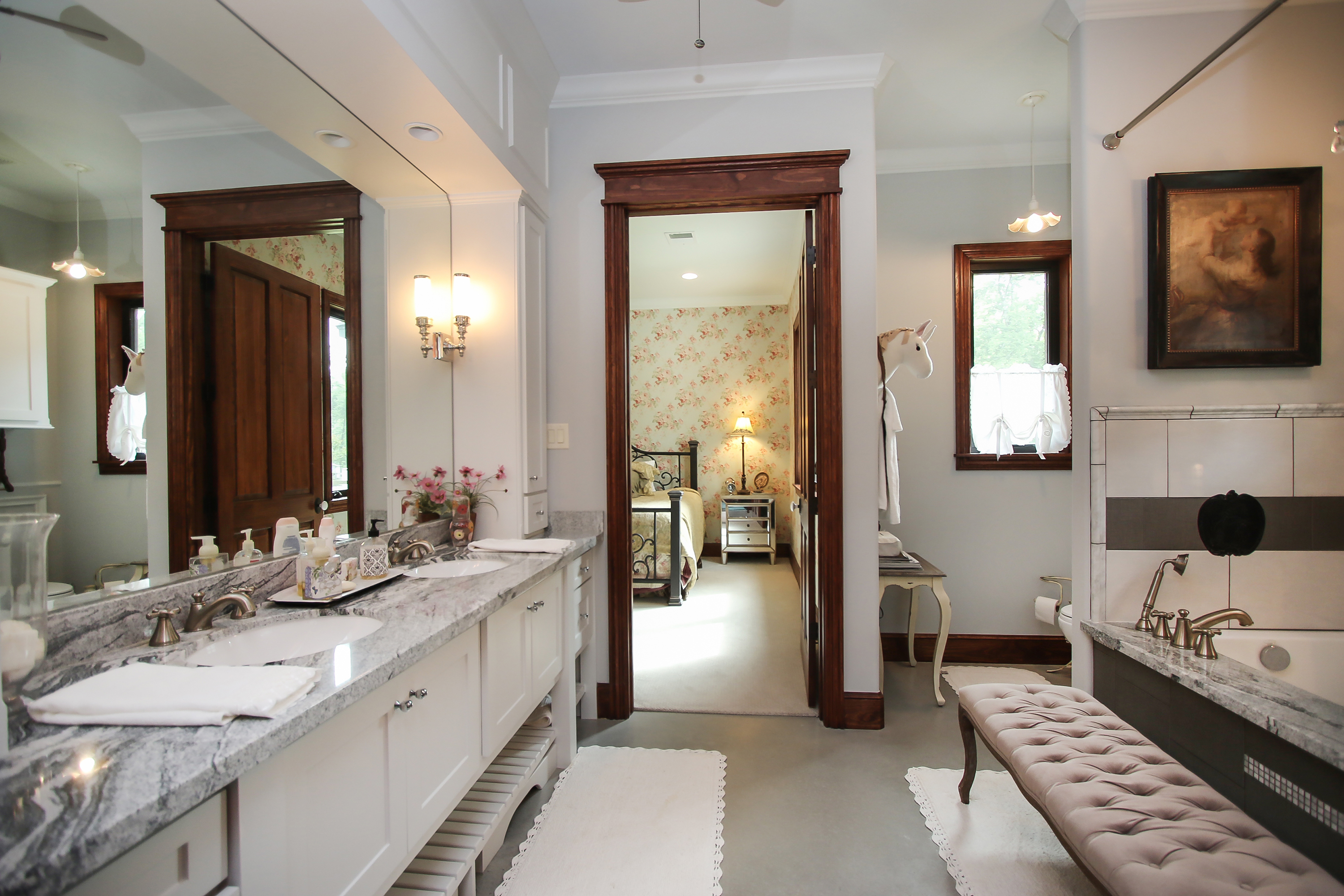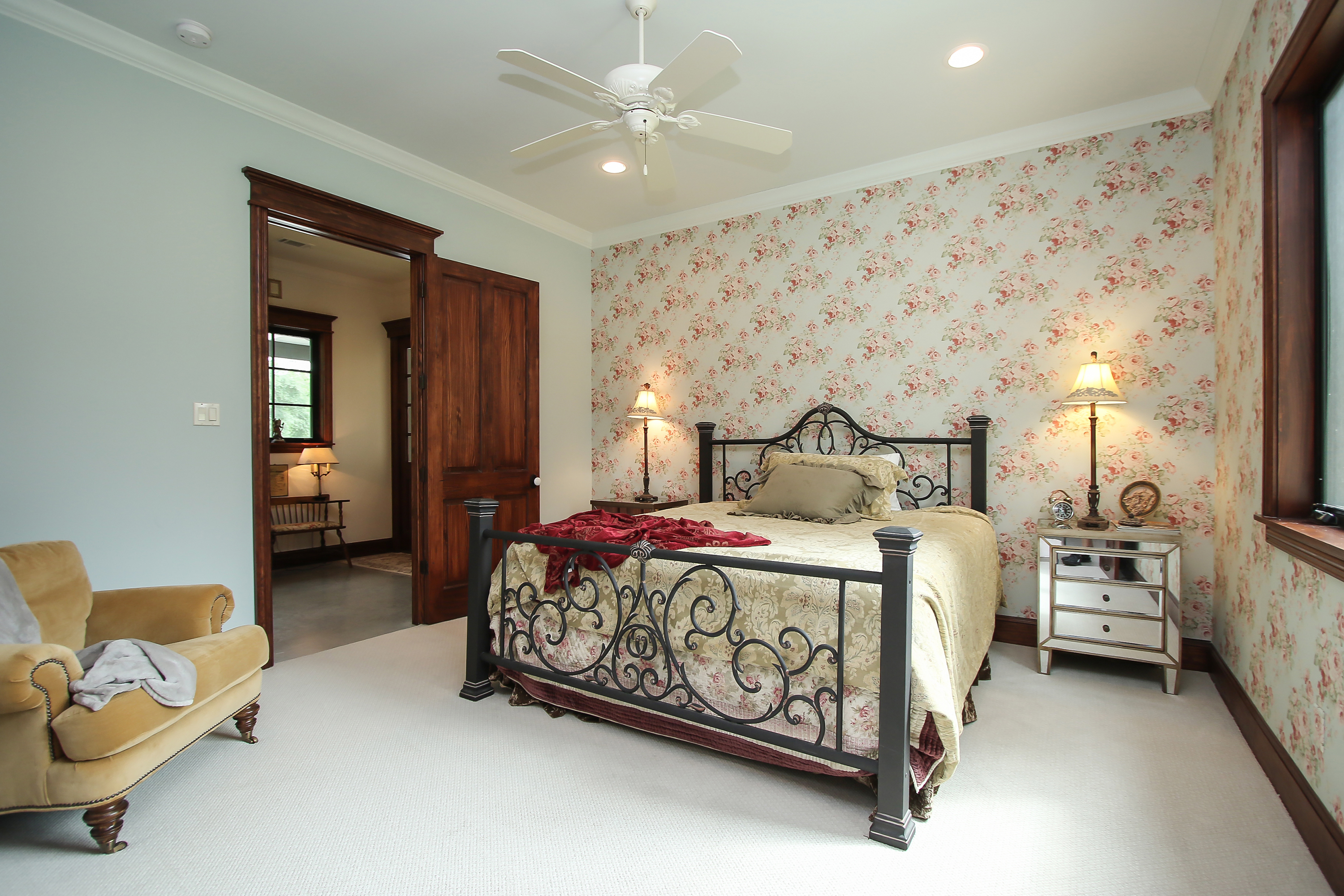 The adjoining bedroom enjoys a floral wall covering, views to the yard, recessed lighting, and crown molding.
The resort-like rear yard features a five-foot swimming pool and modern concrete pool decking. On chilly nights warm up by the fire pit nestled under a canopy of oak trees. Its an ideal spot for conversation… and 'smores! The sun-kissed back patio provides plenty of space for entertaining a crowd or simply enjoying morning coffee with someone you love.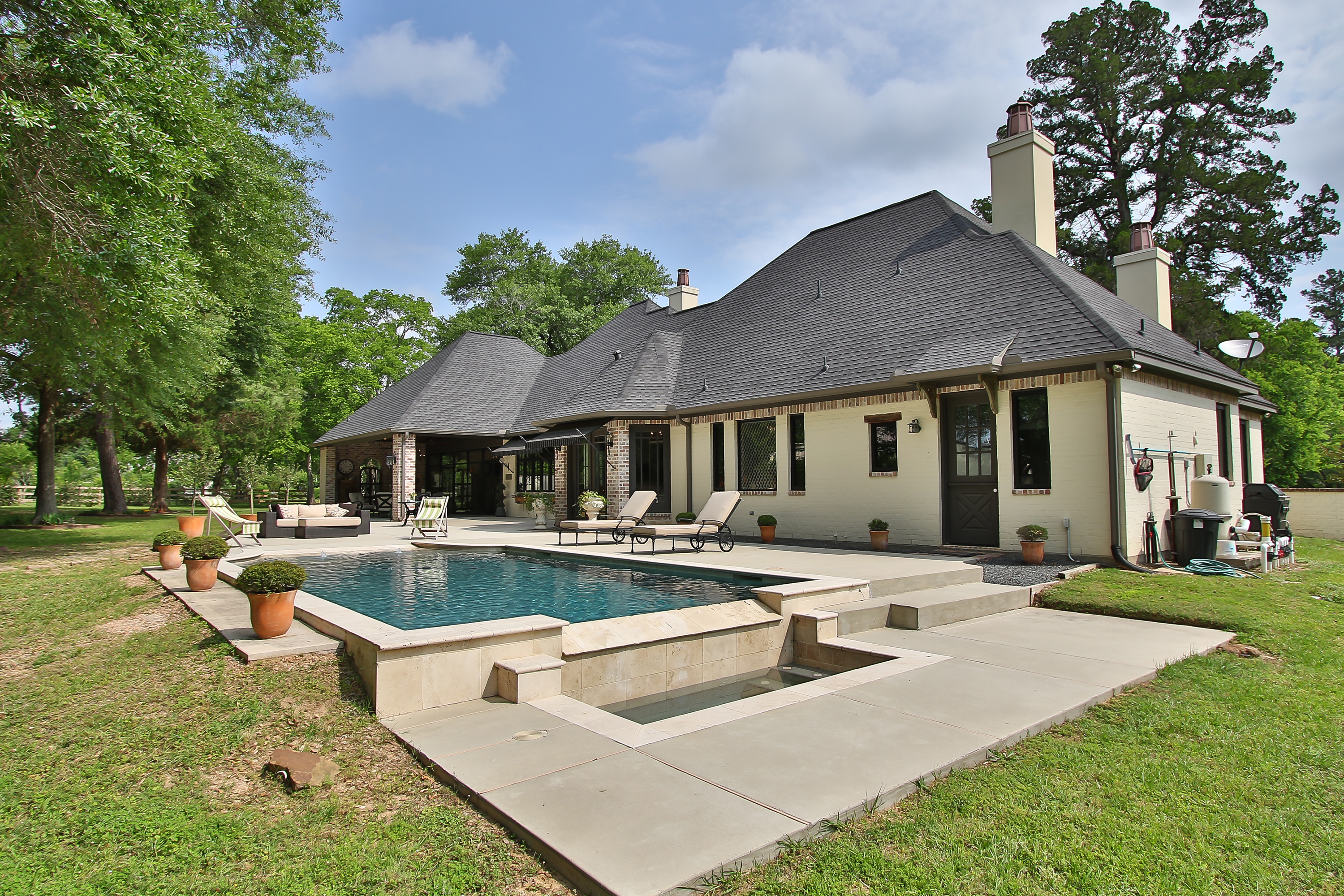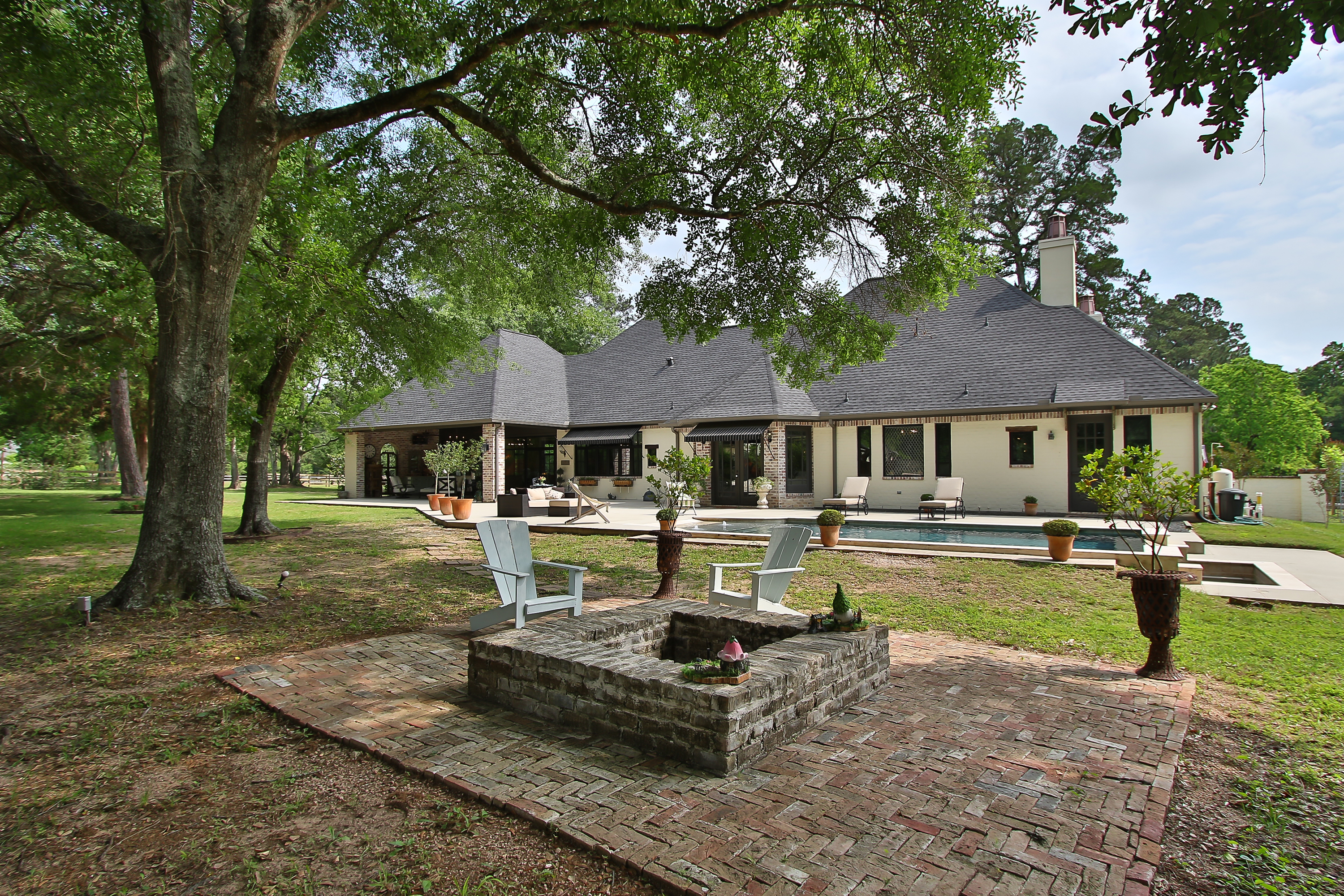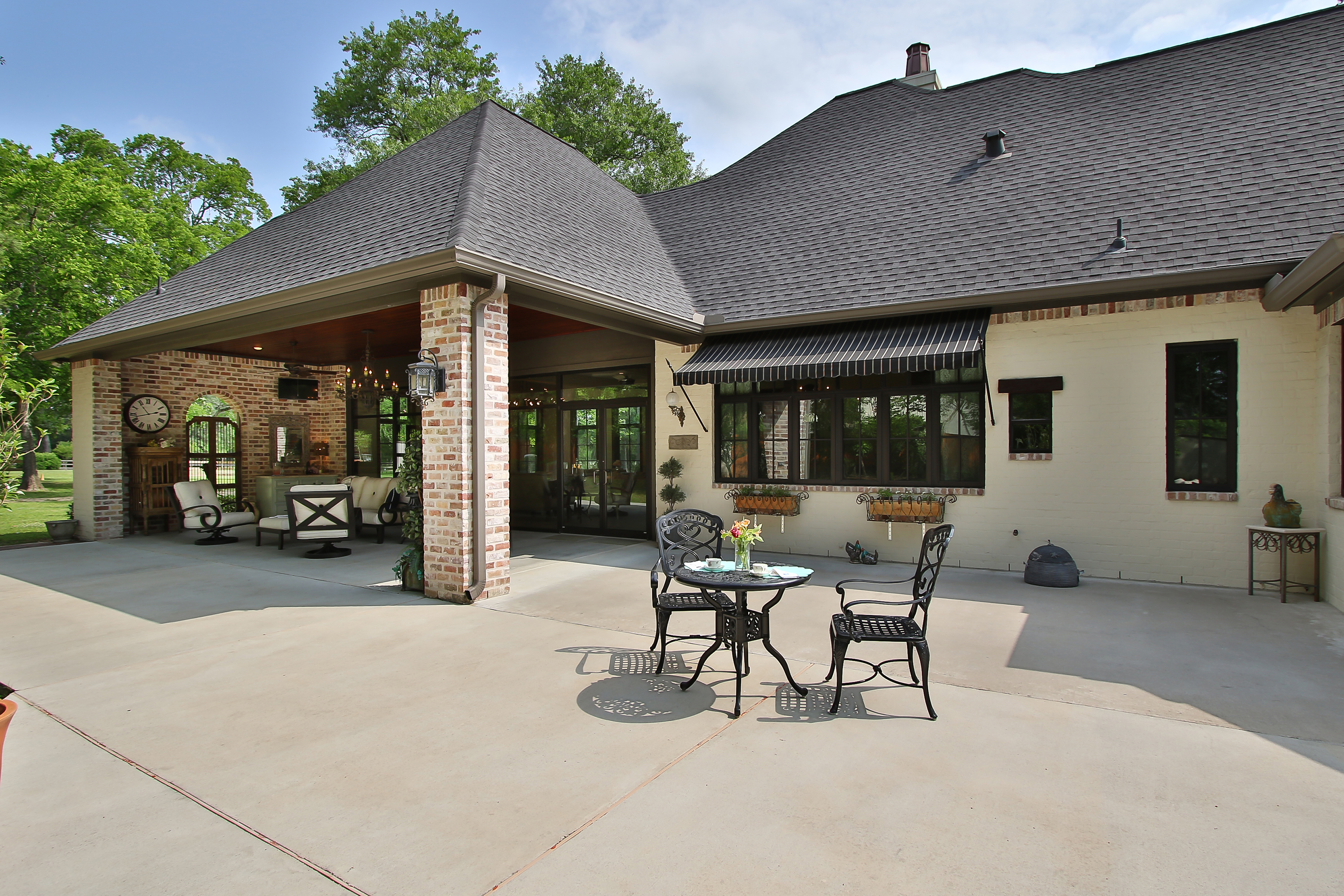 Enjoy well water and an aerobic septic system installed for this 4,400 square foot slice of heaven spanning an acre of land. The unique lighting even continues onto the covered back patio. Two ceiling fans on the tongue and groove wood ceiling flank the candle chandelier.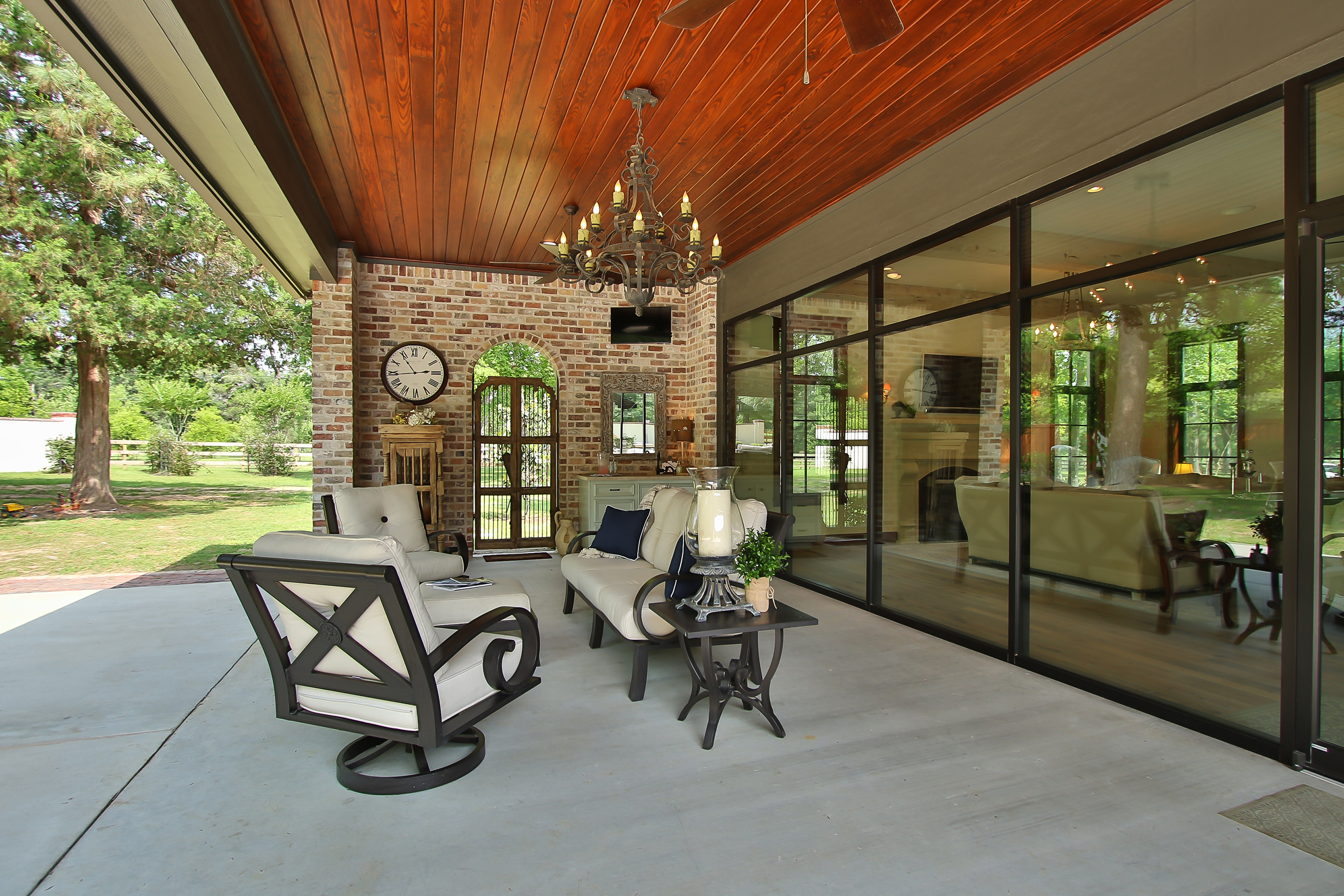 The back patio features a sink and a cabinetry and is plumbed for the next owner to install an outdoor kitchen if they choose. No doubt, the time is right to call this home!